By Dr Selwyn R. Cudjoe
March 15, 2021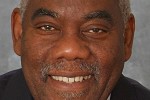 It must have been in the early 1940s. My father slapped my mother.
She took him to court. Six months later the trial took place. The magistrate asked what had happened. My mother told him.
'Have you made back up now?' the magistrate asked.
'Yes,' my mother answered.
Continue reading When love ceases →