By Aileen Alexis
February 11, 2021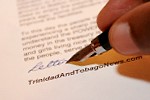 The kidnapping and murder of a young court clerk, Andrea Bharratt has evoked strong emotions from a wide cross-section of the Trinibagonian population. Protests, vigils and calls for legislation regarding the use of non-lethal weapons such as pepper spray and tasers, and the resumption of hangings have all become some of the manifestations of these emotions.

There is no doubt that what happened to Andrea is a tragedy for this country. This has caused the "Protect Our Women" call to re-emerge with a specific focus on dealing with gender-based violence. However, this call to protect our women can be quite skewed because this does not apply to all women irrespective of race, colour and class. This is the stark reality that we have to grapple with as this concern can be quite selective. This is seen in the case of Ornella Greaves, a Beetham Garden's resident, who was presumably shot dead by the Trinidad and Tobago Police force in June of last year, while protesting police brutality. It is evident that this society places a higher value on the lives of some women while others are disposable.
Andrea has been called beautiful, meek, gentle along with other numerous character traits from people who have never met her. One has to wonder on what basis are individuals giving their assessment. The answer is not hard to formulate. Andrea fits the look of what this society deems as a respectable young lady; and to top it off, she is a graduate of the University of the West Indies. Ornella Greaves, a mother of five, did not receive the same feeling of outrage from the population because, after all, she did not meet its skewed notion of a desirable woman. The investigation into her murder has gone cold with the TTPS denying any involvement. There has yet to be any protest, vigils, or calls for holding Ornella's murderer accountable. There are prejudices that are inherent within the "Protect Our Women" and to tackle them, people need to be honest enough to acknowledge and actively work on the biases that blind them from seeing the value of Black lives in this society.
Trinidad and Tobago was born out of violence. Rape, murder and genocide are some of the core pillars that have shaped Trinbagonian society with the coming of Westernization. Therefore, when shock and outrage ensue after an egregious crime is committed, more so against someone who is seen as socially desirable, one has to wonder about the historical awareness of the citizenry of this country.
Gender based violence is often separated from the larger problem of violence that has pervaded this society. The violence is symptomatic of a country built and driven by bloodshed which is then propped up by widespread corruption. Society is often two-tongued in its sentiments surrounding violence. They condone violence when it is someone they view as a pest, undesirable or a burden to "greater good" of the country. Thus, they often commend the actions of the TTPS who, many times, take on the role of judge, jury and executioner while carrying out their duties. With the murders of two main suspects in Andrea's case, many citizens agree with the possible unlawful executions carried out by the police. It is extremely palatable to accept the murder of some individuals more so, men and women from areas in Port of Spain and other communities that are deemed as ghettos or hotspots. This is symptomatic of the ever-present racism, classism and colorism that this society quite often seeks to ignore or downplay as irrelevant issues. If it is acceptable for the police to unlawfully assume the role of executioner by their arbitrary rules, then what is the shock and outrage about when other citizens apply that same modus operandi? To tackle gender-based violence, there needs to be a broader analysis of all the institutions, values and prejudices that we so easily subscribe to without challenging how we ourselves contribute to all the violence with which we are so aggrieved.
To tackle the crime problem that has so long plagued this country, there first needs to be greater dialogue that extends far beyond the academic and professional spheres. Voices from marginalized individuals and communities need to be strongly considered as they have been silenced and overlooked far too often. Their insights, experiences and perceptions cannot be ignored when they are the ones who are most severely disadvantaged by the implications of crime. The murder of Andrea Bharratt is a product of a plethora of unaddressed issues that have been constantly overlooked or pushed to the backburner of thought and action, not just by politicians, but by the general population of this country.