By Rickie Ramdass
May 31, 2016 – trinidadexpress.com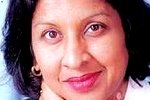 EIGHT of the ten men on trial for the murder of businesswoman Vindra Naipaul-Coolman, were found not guilty of the crime this afternoon.
Retrials have been ordered in the case of the two other murder accused.
The verdicts were announced at around 5.30p.m in the Hall of Justice, Port of Spain before Justice Malcolm Holdip.

It brings to an end a trial that began more than two years ago.
Naipaul-Coolman was kidnapped from her driveway at Lange Park, Chaguanas the night of December 19, 2006. Her body was never found.
Full Article : trinidadexpress.com