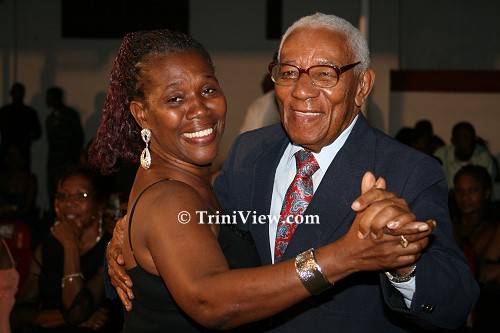 Right: Holly Betaudier at the Independence Queen of the Ball and Dance Competition 2007
By Joan Rampersad
Tuesday, May 31 2016 – newsday.co.tt
Former radio and television producer and presenter, as well as actor Holly Betaudier passed away peacefully at his home in Westmoorings at 11.20 pm on Sunday night. He turned 91 on January 27, 2016.

His wife of approximately 43 years, Valerie, was too distraught to speak on his final moments, opting to deal with her lost privately when Newsday spoke with her yesterday.
His son Holly Jnr however stated that last Sunday while visiting his father he called several family members and close friends on the phone, who all spoke to Betaudier.
He further stated that Betaudier saw all of his children within the last month and a half.
On his dad's passing Holly Jnr said: "He's done what he has done throughout his entire life. He is a legacy to a number of people who he has assisted in getting to their goals in the entertainment world.
And that's what he seemed to have been placed on this earth to do, to assist people to get to wherever they needed to go in the entertainment industry." Betaudier had been ailing for some time, before he was taken out of the public's eye last year, even though his voice was still heard Mondays, Wednesdays and Fridays on I95.5FM doing a short feature called Toute Bagai. Betaudier's career in media began in August 1946 at the American Naval base in Chaguaramas, working for the US Armed Forces radio service network WVDI as an announcer.
Later at Radio Trinidad he was the host of "Holly's Happy Moments," a popular radio show that featured the best of local talent.
Then in 1962, when Trinidad and Tobago gained its independence, Betaudier was among the pioneers at the birth of Trinidad and Tobago Television (TTT) station, securing a job as a salesman, landing ads with the Kirpalani Group of Companies, Angostura Ltd, and a few stores on Frederick Street that bought air-time on ttt.
He did several five-minute promos congratulating the country on achieving its independence, before those segments were converted into five-second "Spotlight" commercials.
During the height of the '63 season, Betaudier started hosting in-studio presentations from the various calypso tents with appearances from the likes of Sparrow, Melody and Kitchener. But at that time the local viewing audience wanted more local programming.
This resulted in Betaudier championing local cultural and entertainment programmes , including the most popular television talent show ever, "Scouting for Talent".
This show helped launch the careers of many entertainers and became a platform for local culture.
Among the numerous entertainers the show produced were names such as Denise Plummer, Francis Prime, the United Sisters, Chalkdust, Singing Francine, Patsy John, Tommy Joseph, TT's acclaimed soul and gospel recording artiste, Carol Addison and the internationally known celebrities Lorraine Toussaint and Sullivan Walker, both of whom became US-based film and stage actors, the latter, often appearing as a guest on The Bill Cosby Show.