By Derek Achong
Saturday, May 14, 2016 – guardian.co.tt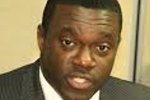 Public Services Association (PSA) president Watson Duke may have to relinquish his duties if he is eventually charged by police in relation to an allegation of rape made against him by a lawyer attached to the union this week.
Duke, who was held by police after surrendering for questioning on Thursday, remained detained in a cell at the Central Police Station, St Vincent Street, Port-of-Spain, up to late yesterday.

Police sources close to the investigation said detectives at the Port-of-Spain Criminal Investigations Department (CID) had already interrogated Duke on the allegations and are expected to approach the Office of the Director of Public Prosecutions (DPP) later today to determine if he should be charged. Duke will remain in police custody until this determination is made.
Speaking with the T&T Guardian yesterday, former PSA general secretary Nixon Callender explained that in the event Duke is charged, the union's general council and the management of the Water and Sewerage Authority (WASA), where Duke was employed before becoming the union's leader, would have to determine if he should be suspended.
Callender, who himself was not suspended after he was charged with assaulting a group of colleagues during a fracas at the PSA headquarters several years ago, noted that even if the general council voted to allow Duke to continue his duties, WASA's decision may still force him to relinquish his role.
"If the officer in WASA is suspended from work all privileges are revoked, including the full time off for trade union business. Therefore, the PSA would have to release him because he would no longer be able to carry out the duties of a full-time officer," Callender said.
According to police reports, the victim, a 33-year-old attorney from Central Trinidad, claimed the incident occurred on Tuesday afternoon, after Duke invited her to accompany him to a meeting at the Hyatt Regency, Port-of-Spain.
Duke and the victim went to a room at the hotel, where she alleged he overpowered her and had sex with her against her will. After the incident, the victim allegedly returned with Duke to the union's office and then went home. Hours later she reported the incident to the Cunupia Police Station.
Speaking on Wednesday, Duke denied any wrongdoing and claimed he was being framed by the victim.
ASP Ajith Persad of the Port-of-Spain CID is leading the investigation.
Source: www.guardian.co.tt/news/2016-05-13/duke%E2%80%99s-psa-post-may-be-trouble