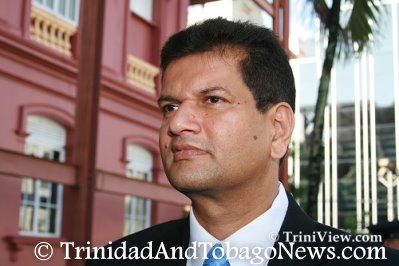 By Shaliza Hassanali
March 30, 2014 – guardian.co.tt
Tourism Minister Chandresh Sharma is under investigation by the police for the assault of his former girlfriend. Sacha Singh, the managing director of AMS Biotech Security Concept and AmSure T&T Ltd, who is in her late 20s, met with officers of the St Joseph Police Station on Friday at her Piarco business and gave a statement of Sharma's alleged physical abuse during an altercation on March 12 at Grand Bazaar. Though a police investigation into such a matter can take as long as six months, the Sunday Guardian learnt that because of the high-profile nature of the matter it is being fast-tracked. ASP Joanne Archie, public information officer of the T&T Police Service, yesterday confirmed that an investigation was being conducted by the police against Sharma: "Statements were recorded and the investigation is in progress."

Archie said "a charge or charges" may be laid after the investigation. Sharma's investigation comes days after former minister of the people Dr Glenn Ramadharsingh was fired by Prime Minister Kamla Persad-Bissessar on Tuesday, following allegations of disorderly behaviour on board a Caribbean Airlines flight on March 16.
Questions about the child arose
Police were told that Singh met Sharma in the car park of Grand Bazaar, near Toppers around 7.45 pm on March 12. Sharma had agreed to meet Singh at the mall. In the back seat of Singh's car was a 12-year-old girl and her mother, a schoolteacher. Sharma entered her Mercedes Benz car and sat in the front passenger seat, where questions about the child arose. The child eventually moved and Sharma spotted her. The child called out to Sharma who acknowledged her. Singh began to ask Sharma about maintaining the child. Sharma and the girl's mother came out of the vehicle arguing. Shortly after, there was a scuffle between Sharma and the woman.During the melee, Sharma urged the woman to stop hitting a Brahmin boy. Singh came out of the car and held on to Sharma's tie, but was slapped across the face.
Sharma, the police were told, pushed Singh who fell back and hit her head on her car and blacked out for several minutes. After gaining consciousness, Singh said they were checking her pulse. She said she was told that Sharma was putting water on face, forehead and head to revive her. Singh said Sharma kept saying she was fine and told her not to go to the hospital, but instead she should go home and take a shower. Singh called her doctor at St Augustine Private Hospital who told her he was not on duty. She went home and took painkillers. The following day, Singh was examined by Dr Pulchan at the Eric Williams Medical Sciences Complex who diagnosed that she suffered from a mild concussion and haematoma (swelling of the brain). She then reported the incident to Sgt Ogiste at the St Joseph Police Station. Traumatised by the incident, Singh left the country on March 14 and returned on March 25, where the police took a report three days later. The matter is being investigated by Insp Naim Gyan, who refused to comment yesterday when contacted.
Singh: I am pressing charges
Contacted yesterday, Singh said she was pressing charges against Sharma, who she met at the Hyatt Regency Hotel in January 2013. Singh admitted that she shared a relationship with Sharma, stating that she has evidence to back up her claims. "I found out about the child last November by his (Sharma's) wife. That's when things started to go downhill with us because when I asked him repeatedly about the child, he kept denying (the child) was his." She said Sharma had no right to push her down because she brought the little girl to see him. Stating that she had established her business before she met Sharma, Singh, a former Miss T&T contestant, said, "It is not that I am bitter, vindictive or want revenge against him…it's about living up to your responsibilities and speaking the truth. It's an innocent child we are speaking about."
Singh said she could have left the matter, but realised that it could have been far more serious. "I could have died. This should serve as a message to all women that they can stand up and fight men who are abusive."
She said she was determined to press charges against Sharma because if left unchecked, someone could get killed in the future as a result of his actions. Singh described the incident as an abuse of public office. "The thing is, if you grab a woman's breast and you get removed and you knock down a woman…same thing."
Ramesh Maharaj: PM ought to remove him
Yesterday, former attorney general Ramesh Lawrence Maharaj said on the basis of the PM's action against Ramadharsingh, the same should apply for Sharma. "An assault is when you attempt to hit someone. If you hit, then it's assault and battery, which is a criminal offence and would have to answer a charge in the Magistrate's Court." Maharaj said Sharma's report was far worse. "It's a form of domestic violence because he was friendly with her." Maharaj said a minister does not have to be charged to be fired, but the charge aggravates the situation. A minister, Maharaj said, must be an exemplar. "The PM ought to remove him…There must be high standards in public life." Maharaj said an investigation like this should take only a few days. "These matters are simple investigations. So this summary complaint must be filed within six months of the date of the incident."
Sat maintains it's a domestic affair
Secretary general of the Sanatan Dharma Maha Sabha said Ramadharsingh's issue was quite different from Sharma's. "Ramadharsingh's incident happened in an aircraft with other passengers who were endangered. This is a different thing—a domestic dispute…lots of people have. One is a domestic affair, and one is public manifestation of bad behaviour. It was a different situation because lots of politicians…they have domestic problems. So that is why I drew the line." Maharaj maintained that the matter involving Sharma will take its course. Maharaj insists that he was not condoning domestic violence.
Seebaran–Suite: If it is true… it is to be deplored
Women's activist, chairman of Advocates of Safe Parenthood: Improving Reproductive Equity (Aspire), attorney Lynette Seebaran–Suite said: "If it is true, then really, it is to be deplored because domestic violence is one of the most pervasive crimes society faces." Seebaran-Suite said she has been trying to wrestle with the problem. "So if we have exemplars in society or people who are supposed to be exemplars committing that kind of violence, then they should face the full brunt of the law." Seebaran-Suite said anyhow you look at it, "an assault is an assault."
No response from Sharma, PM
Yesterday, a call made to Sharma's phone was answered by someone who stated that the minister was attending a function. Another call at 6.30 pm was not responded to. Text messages sent to Sharma's cell phone at 4.38 pm, 6.37 pm and 6.59 pm were not answered. Sharma also did not respond to questions e-mailed to him. Meanwhile, calls and texts to Persad-Bissessar's phone went unanswered.
News
Source: www.guardian.co.tt/news/2014-03-30/police-probing-chandresh-assault-ex-girlfriend