By Stephen Kangal
February 06, 2012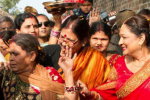 In the aftermath of the current euphoria and unbridled optimism generated from the highly successful recent State visit conducted by Prime Minister Kamla Persad-Bissesar to India in connection with the annual Pravasi Bharatiya Divas it is very disconcerting to hear HE The High Commissioner of India to T&T, Malay Mishra using an occasion to promote his mission's Hindi language program in T&T, to unleash unwarranted and undiplomatic criticisms of her alleged inability to connect with the people of her ancestral village of Bhelupur because she spoke in English- the official language of T&T.

There was simultaneous translation into Hindi at the event. Here is what Peggy Ramesar a noted T&T Linguist, National Scholar and lecturing at the Jawaharlal Nehru University says of the speech:
"I think they would have been satisfied with a few words in Bhojpuri or Hindi at the start, which is exactly how she spoke. The rest of her speech, in English, was their greatest dream come true: one of theirs had reached the top of the world!"
The adulation that the PM received from the Government and People of India, the Indian media and the 100,000 people gathered in Bhelupur in particular does not substantiate this diplomatic indiscretion.
The HC proceeded further to condemn local Indian artistes for singing Hindi songs/Bhajans the lyrical meaning of which most did not understand. The Indian community has had to deal with a similar unjustified criticism from within T&T. The conclusion to be drawn is that these artistes must stop singing until they learnt Hindi without realizing that it is the vibrations emanating from these songs such as the Aum sound that connect us. The lack of appreciation of some of the lyrics does not reduce our passionate enjoyment. The Hindi Nidhi has been doing a lot work in Hindi language skills development.
The effect of his statement is to cast an unnecessary damper on and to diminish the PM's outstanding performance that warmed and seduced the hearts of a billion Indians including the Indian Media and 30m Indian diaspora by the envoy's own confession and admission. No foreign envoy should arrogate unto him-self the audacity to embarrass and criticize the sitting Prime Minister of the host state especially when it involves her unique stewardship during the just concluded official visit to the envoy's sending state of India. That is crossing the border of diplomatic good sense, discretion and sound judgment -hallmarks of a true diplomat.
It would appear to me that His Excellency may not have recovered adequately from personally witnessing and facilitating the sheer intensity of the taxing visit as well as from the disorienting effects of the jet lag on his return to his posting.
That statement constitutes compelling grounds for the Minister of Foreign Affairs to summon HE Malay Mishra to bring to his attention that he has brought the stewardship of his PM on an overseas assignment without good reason into odium and disrepute- that he should apologise and be informed that an appropriate complaint will be dispatched to New Delhi.
Pandita Indrani Rampersad who mounted a defence of the High Commissioner fails to appreciate that whatever she said at the function relating to Indian singers not knowing Hindi and the need for inclusion of Hindi in the school curriculum cannot be said by the foreign envoy because unlike her he is not protected by the freedom of speech principle and can be declared persona non grata for interference in the internal affairs of T&T or criticizing a member of Government. The fact she said or echoed what the HC said is no defence or justification for the indiscretion of the Indian High Commissioner. She is a national of T&T and she needs to appreciate the subtle difference.
This is no storm in a tea-cup and foreign envoys must appreciate that ours is a vigilant and population even on the conduct of foreign affairs and diplomacy.