By Peggy Mohan
February 05, 2012 – trinidadexpress.com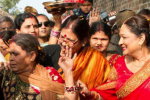 There is nothing strange in a person from India visiting Trinidad and being beset by dreams of connection with Indo-Trinidadians. They look so much like us…if only they could speak Hindi like us too. Once upon a time they must have…

The reality is not so simple. First of all, when our ancestors made the great journey to Trinidad, Hindi was not one of the native languages they brought with them. What they brought were dialects of Bhojpuri, and other local dialects from the larger hinterland of Uttar Pradesh and Bihar, and varieties of Tamil and other local dialects from South India. And just as sugar boiled down and crystallised in the great vats on the sugar estates, a new variety of Bhojpuri came to life in Trinidad, at a time when Bhojpuri in India was still a fragmented scattering of village dialects. So in a sense, Trinidad led the way: in India Bhojpuri is only now beginning to standardise as a major regional language of literature, media and political discourse.
The relationship between Bhojpuri and Hindi in India is complex, and not unlike the relationship between Creole and English in Trinidad. By that I mean both pairs of languages co-exist in a diglossic relationship. Bhojpuri inhabits the same social space as Creole: it is mostly used in oral discourse, while Hindi has captured the literate end of the spectrum. Hindi was not one of the native languages brought to Trinidad, though some educated migrants would certainly have learned to read it.
Full Article : trinidadexpress.com
***
Envoy laments loss of Hindi
January 29, 2012
Indo-Trinis should learn the language
INDIAN High Commissioner Malay Mishra said yesterday that Prime Minister Kamla Persad-Bissessar failed to truly connect with the people of her ancestral village of Bihar during her recent State visit to India.
What was behind the 'Hindi' call
February 02, 2012
The first Express report on the matter involving the Indian High Commissioner's advice to the Prime Minister to learn Hindi does not capture the essence of his argument and, instead, quoted selectively for sensationalism. I was there and heard the whole speech. Malay Mishra said our Prime Minister spoke to over 100,000 people in English and this had to be translated into Hindi. It is in this context that Mr Mishra said that had the Prime Minister spoken in Hindi, she would have made a more direct and intimate connection with the people who had come from far and wide to hear her. He then went on to suggest that since Hindi is an ancestral language of the people of Indian origin here, we should learn this language.