By Richardson Dhalai
February 24 2016 – newsday.co.tt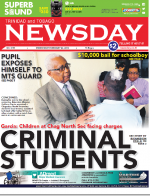 CRIMINAL students are among the population of the Chaguanas North Secondary School and Minister of Education Anthony Garcia, yesterday pledged to have them removed.
As a start, Garcia revealed that 24 students — identified as ring leaders in the delinquency that has plagued the school — are to be sent home with immediate effect.
Following a return visit to the school yesterday, this time along with Minister of National Security Edmund Dillon, Garcia told reporters, "I have taken a decision, a definite decision, that I will not tolerate indiscipline and violence in our schools. My mantra is no school indiscipline, no violence in schools." Dillon also said the country may have to consider boot camps for delinquent students as Garcia said he will be looking at ways in which the students who are removed from the school could be reintegrated into the system.

Garcia returned to the school yesterday following his presence there last Friday in response to the disclosure that some students, supported by criminal elements, were planning to stage a gun attack and even kill a teacher and other students.
The Minister was in Tobago until Monday evening where he hosted the final sessions of the national consultation on education.
In making the visit to the central school again yesterday, the Minister wanted to ensure the suggested ramping up of security was in place and working, and he also wanted to continue discussions with the Principal, teachers and other personnel on the way forward.
Full Article : newsday.co.tt