By Radhica Sookraj
October 14, 2015 – guardian.co.tt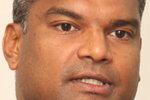 Former attorney general Anand Ramlogan is remaining tight-lipped about accusations he was profitting from civil lawsuits brought against the State because of flawed legislation passed by the People's Partnership government.
The accusation was made during the budget debate on Monday by Attorney General Faris Al-Rawi in reference to the Children's Community Residen­ces, Foster Care and Nurseries Act.

Passed by the PP and proclaimed by President Anthony Carmona in May, the Act makes it unconstitutional to remand juveniles to the Youth Training Centre, St Michael's Home, St Jude's home and the Women's Prison.
The juveniles are supposed to be housed in community residences but these were never established by the past government when the law was passed.
Contacted for response to the allegations, Ramlogan refused to say whether he was fighting the civil lawsuits, which may cost taxpayers millions of dollars in damages, pro bono.
"It would be as inappropriate and improper for me to comment on a matter that is before the court, just as it is for the AG to do so," Ramlogan said. He declined further comment.
Al-Rawi in his presentation said Ramlogan, who was instrumental in passing the laws, was now benefitting by bringing cases before the court seeking damages for unconstitutional detention.
Quoting page 35 of the handbook for false imprisonment and malicious prosecution in T&T, Al-Rawi said 72 juveniles have been detained at YTC and other centres.
He said recent court rulings show up to $250,000 in damages was awarded recently to a complainant. This means that taxpayers may have to fork out more than $18 million in damages.
"In June when the matter came back in Cabinet, it was estimated that $300 million will be spent for development of new centres that would take years to get done. Why proclaim the legislation if community residences were never set up? Al-Rawi asked.
He said the PNM Government now has to either fix the problem legislatively or find a physical solution by setting up the community residences. Al-Rawi also said the Children's Authority was also suing the State for the unconstitutional detention.
Ramlogan is the lead attorney in a matter now before the court in which two 15-year-old boys are challenging their detention at the YTC.
However, the former AG came under fire from Justice Frank Seepersad who questioned why he was bringing the matters before the court when it was his government who had failed to set up the community residences.
Ramlogan resigned from office in the face of a criminal complaint of witness tampering in February, some three months before the laws were proclaimed and Garvin Nicholas replaced him.
Set up residences now—Mahabir-Wyatt
Meanwhile, child rights activist Diana Mahabir-Wyatt said on Monday it should take no more than six months for Government to establish permanent community residences for juvenile offenders.
She revealed a year before the Act was proclaimed by President Anthony Carmona, she was under the impression community residences were being built in Piparo. However, this never happened.
She said Ramlogan's championing of the cases could be seen as a way of forcing the government to fulfill the promises that were made through the former ministry of gender and child affairs.
She said under international law, T&T was required to put certain measures into effect to protect children.
"When I was chair of the Child Protection Programme we were told that properties have been accessed, funds have been allocated and at one point when I did call and ask what was happening, I was told the foundation was being laid at Piparo. Two new facilities were being built. I now find out that it wasn't true," Mahabir-Wyatt said.
She said there was no guarantee that complainants would get monetary compensation for unconstitutional detention.
Mahabir-Wyatt agreed that the law should not have been passed until community residences were built.
"The government should move quickly to get these properties built instead of running around pointing fingers," Mahabir-Wyatt added.
http://www.guardian.co.tt/news/2015-10-14/anand-getting-flawed-children-law%E2%80%94ag