Guardian
October 14, 2015 – guardian.co.tt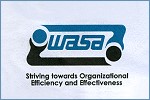 Public Utilities Minister Ancil Antoine says the Water and Sewerage Authority (WASA) is "burdened with massive debt and (is) financially strapped for funds."
He said the state-owned utility company was currently operating with deficit is $1.6 billion and its receivables were $33.9 million.

Contributing to yesterday's 2016 budget debate in the House of Representatives, Antoine said WASA had used $403.1 million of its overdraft facility and "was fast approaching the limit of $420 million."
He said WASA's "governing structure is weak and not suspiringly the moral of employees at the authority is at a very low ebb."
He said his predecessor Ganga Singh had embarked on an extensive and expensive pipe-laying exercise across the country and quoted from documents to show that the projects were not done equitably as in United National Congress constituencies more projects were done at significantly higher costs.
Antoine said while there were some 15 contractors qualified to do the respective jobs, only "two contractors were allowed to feed at the trough and were given millions to pave most of the roads after pipes were laid."
He said the corruption did not end there, as "there were instances of over-invoicing to the tune of hundreds of millions of taxpayers' dollars, invoicing would come in for longer distances than roads paved and no questions were asked."
"Another form of corruption was the use of WASA in-house crews to undertake works which were outsourced to contractors," Antoine said, adding this meant that "the taxpayer paid twice for the same scope of works.
"WASA paid the contractor and then they (it) would have paid the wages and other costs for the in-house crews for the same projects. This was the sting in this pipe-laying explosion under the previous government," he said.
Antoine then gave some examples "of how this racket was carried out." He said in one project, "temporary restoration was billed for a two-metre trench width instead of one metre. So (a) one metre trench was dug but the billing was for two metres.
"Separate invoices were sent for road restoration for the entire roadway. So only a portion of the road received the pipe but the taxpayers paid for the paving of the entire road."
In another project involving road restoration in Chandernagore, Chase Village, the minister said "approximately 3,096 metres were invoiced. However, only 1,790 metres can be seen and measured."
According to Antoine, the contractor said the MP for the area, Ramona Ramdial, "instructed him to pave other roads in the vicinity which he did and billed the authority. WASA project manager approved."
Ramdial, who was seated opposite, said that claim was untrue. She attempted to have the claim withdrawn on the grounds that the minister was imputing improper motives.
But Annisette-George overruled her, saying she did "not see anything improper in that."
Ramdial shouted: "It is not true, Madame Speaker. — Richard Lord
Source: www.guardian.co.tt/news/2015-10-14/wasa-now-saddled-16b-deficit