Re-elected Fifa president claims timing of arrests of officials had been motivated by revenge
By Owen Gibson in Zurich
Saturday 30 May 2015 – theguardian.com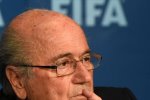 Newly re-elected Fifa president Sepp Blatter has launched an astonishing attack on the US justice system and the British media in the wake of the string of bribery charges against senior officials that plunged world football into chaos last week.
As he denied being the unnamed high-ranking official who authorised the payment of a $10m bribe to disgraced former Fifa vice-president Jack Warner, as alleged in last week's US indictment, Blatter targeted his enemies and warned: "I forgive but I don't forget."

Emboldened after being re-elected for a fifth term in office, he turned on his accusers and claimed that the timing of the raid by the Swiss police, who have been cooperating with a long-running FBI investigation, was designed to remove him from office and motivated by revenge.
Swiss police swooped on the Baur au Lac hotel in Zurich on Wednesday and arrested seven senior Fifa executives, including vice-presidents Jeffrey Webb and Eugenio Figueredo, prompting a renewed wave of furious calls for reform and for Blatter's resignation.
US federal investigators have said that last week's arrests and indictment was only the beginning of their investigation and Richard Weber, head of the Internal Revenue Service, said further arrests were likely.
"I'm fairly confident that we will have another round of indictments," he told the New York Times. "We strongly believe there are other people and entities involved in criminal acts."
The 79-year-old Blatter said that the US arrests and charges – which accused a total of 18 executives of 47 counts of money laundering, racketeering and tax evasion linked to kickbacks totalling more than $150m over two generations – were timed to damage his chances of re-election.
"No one is going to tell me that it was a simple coincidence, this American attack two days before the elections of Fifa. It doesn't smell right. This has touched me and Fifa," said Blatter.
"There are signs that cannot be ignored. The Americans were the candidates for the World Cup of 2022 and they lost. The English were the candidates for 2018 and they lost, so it was really the English media and the American movement."
His attack on the US authorities and the British media, which also extended to what he called a hate campaign by European football governing body Uefa, had echoes of Russian president Vladimir Putin's claim that the arrests were an attempt to undermine Blatter and destabilise the 2018 World Cup.
On Saturday, a Kremlin spokesman offered congratulations on Blatter's re-election, which will take his tenure to 21 years if he serves a full four-year term. "Putin expressed certainty that Blatter's experience, professionalism and high level of authority will further allow him to spread the geographical reach and popularity of football," he said.
As the Fifa executive committee met for the first time since Blatter's victory over his challenger, the Jordanian Prince Ali bin Al-Hussein, Blatter said he believed the arrests and subsequent media coverage were a co-ordinated attempt to "denigrate" him and force him out.
"If they have a financial crime that regards American citizens, then they must arrest these people there and not in Zurich when we have a congress in Zurich. The United States, it is the main sponsor of the Hashemite kingdom [Jordan]," he railed. "This corruption affair is between North America and South America. It was taken to Zurich and they say it is Fifa."
US authorities said that the raid was timed to precede the Fifa congress because that was when all of those targeted were in Zurich.
At a combative press conference, Blatter said he was unafraid of arrest and attempted to argue that Fifa had done its best to root out corruption. Blatter, who joined Fifa in 1975 when it had just 12 employees, stuck to his claim that the problem was with rogue individuals rather than the organisation's culture.
Since his election as president in 1998, itself marred by bribery claims, there have been allegations of corruption surrounding almost every major decision made since.
Last week's indictment by the US authorities covered claims of bribery in selecting the 2010 World Cup in South Africa and the 2011 presidential election, while Swiss authorities simultaneously seized documents and bank details concerning the controversial bids for the 2018 and 2022 World Cups.
Yet Blatter insisted that he had tried to root out corruption through Fifa's network of disciplinary and ethics committees: "We tried always in my tenure of office to eliminate all these elements or individuals."
But he admitted to concern over unrest from World Cup sponsors that bankroll Fifa to the tune of $400m a year, and said meetings were planned with Visa, which has threatened to withdraw if there is no meaningful reform.
Blatter stuck to a familiar script, arguing that he was the best man to repair Fifa's battered reputation. "We will make strides forward to take our boat back into calmer waters and finally take the Fifa ship into a situation of tranquillity and happiness, with a strong Fifa and a beautiful Fifa," he said.
He was challenged over the $10m payment allegedly routed from a Fifa account in Switzerland to a Bank of America account in New York controlled by Warner. "This is a problem I do not enter. We will not go further. The only thing I can say is I have no $10m," he said, adding that he had no fear of arrest.
"The Americans are making investigations: they have right to do so, I have no concerns; I especially have no concerns about my person."
Uefa executives, who opposed Blatter's re-election and backed Prince Ali, will meet in Berlin this week before the Champions League final to decide their next move.
FA chairman Greg Dyke has said that England could back a World Cup boycott if it was part of a coordinated action, while former Manchester United chief executive David Gill refused to take up his position as a Fifa vice-president in protest at Blatter's re-election.
Blatter criticised Gill's decision and also turned on Uefa president Michel Platini, who had led calls for his former mentor to step down.
"The journalists made a deal: Blatter out. It is a hatred not only by one person at Uefa but by the organisation of Uefa that has not accepted that I have been president since 1998. I forgive everyone but I don't forget," he said.
Source: www.theguardian.com/football/2015/may/30/sepp-blatter-accuses-us-and-british-media-campaign-topple