By Carolyn Kissoon
May 29, 2015 – trinidadexpress.com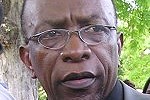 POLITICAL Leader of the Independent Liberal Party (ILP) and Chaguanas West MP Jack Warner turned up for the 1.30p.m sitting of Parliament today and apologised for being absent on Wednesday. "I was in prison" he said.
He made the statement before the Prime Minister question and answer segment in the Parliament. Warner was the lone politician on the Opposition beach. Members of the Peoples National Movement (PNM) are boycotting the Parliament as a result of the suspension of Opposition Leader Dr Keith Rowley.

Warner said, "Before I ask my questions I want to crave your indulgence just to say that I was not here on Wednesday last because I was in prison. I was in prison, Mr Speaker, for charges I know nothing about. I know nothing about."
Warner said he had worked hard for Trinidad and Tobago. "At the end of the day, I have worked for this country fearlessly and I will continue to do so as a good patriot. Nothing I have done either locally or internationally can in anyway impugn my character," he said.
Warner also thanked the deputy Commissioner of Prisons and officials at the prison for their "kind treatment".
Warner then went on to pose questions to the Ministers.
Full Article : trinidadexpress.com