Sepp Blatter re-elected as FIFA president after Prince Ali concedes
May 29, 2015 – rt.com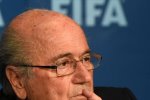 FIFA's long-time head Joseph "Sepp" Blatter has won his fifth presidential term after his opponent, Jordan's Prince Ali bin al-Hussein, withdrew before the voting went into the second round.
Blatter got 133 votes in the first round. He needed at least 139 out of the 209 votes cast on Friday to win outright. The vote was about to progress into the second round where a simple majority would have been enough, when Blatter's opponent Jordanian Prince Ali bin al-Hussein said that he had withdrawn from the race.

Seventy-nine-year-old Blatter, who has already served four terms as FIFA president, had the assured backing of African and most Asian football associations, but the European Football Association (UEFA) stood firmly against him.
Europe instead was expected to back Prince Ali, 38, who was FIFA vice president for the past four years. However, the ballot was secret and not every delegate announced their vote.
Blatter's position was called into question just two days ahead of a vote in the midst of a high level corruption scandal.
Fourteen FIFA officials and businessmen were accused by the US of bribery, fraud and money laundering. Several were arrested in a Zurich hotel where they gathered ahead of Friday's summit.
Swiss prosecutors are also investigating the awarding of World Cups 2018 and 2022 to Russia and Qatar, respectively, to find out whether the vote went without any breaches.
This prompted a wave of accusations against Blatter, who was deemed responsible for what was going on on his watch. On Thursday, the head of UEFA, Michel Platini, said: "People don't need a president like Blatter," and proceeded to pledge at least 45 of the 53 European votes against him.
After his victory was announced, Blatter said: "We won't touch the World Cup. I am a faithful man, God, Allah, whoever, they will help us to bring back this FIFA."
He also promised this would be his final term as president: "At the end of my term, I will give FIFA to my successor. It will be robust. I like you. I like my job. I am not perfect. Nobody is perfect. Together we go."
The next FIFA congress will convene in Mexico city on May 12 and 13, 2016.
Full Article : rt.com
~~~~~~~~~~~~~~~~~~~~~~~~~~~
Sepp Blatter re-elected as Fifa president for fifth term
Blatter was endorsed by 133 of the 209 voting members
Blatter failed to get two-thirds majority necessary in first round
Prince Ali Bin al-Hussein concedes before second round vote
Sepp Blatter has been officially re-elected as Fifa's president for a fifth term by the world governing body's 209 member associations.
Blatter, 79, saw off the challenge of Jordan's Prince Ali bin al-Hussein at Fifa's annual Congress in Zurich. In a secret ballot he was re-elected with 133 votes from the 209 voting members. The process was to go to a second round of voting, after Blatter failed to get the 139 votes needed in the first round to win; a two-thirds majority was necessary. Blatter received 133 votes, Prince Ali 73 and three ballots were spoiled. However, Prince Ali conceded before the second round of voting took place – when a simple majority would have been enough for either contender to win.
"For the next four years I will be in command of this boat called Fifa," said Blatter during a long, rambling speech. "Beach soccer will be played everywhere. I like you, I like my job. I am not perfect, nobody is perfect, but we will do a good job together I am sure. Let's go Fifa, Let's go Fifa. Thank you."
Blatter was preceded on the stage by Prince Ali, who said: "I just wanted to thank all of you. It's been a wonderful journey. I want to especially thank all of you who were brave enough to vote for me."
Full Article : theguardian.com
~~~~~~~~~~~~~~~~~~~
Blatter re-elected president of FIFA
May 29, 2015 – bbc.com
Sepp Blatter has been re-elected president of Fifa, football's world governing body, in a vote overshadowed by arrests and corruption allegations.
Mr Blatter's rival, Prince Ali bin al-Hussein of Jordan, withdrew after the first round of voting.
Mr Blatter fell seven short of the two-thirds needed, but Prince Ali opted not to contest further.
Seven top officials were arrested in Switzerland on Wednesday as part of a US prosecution that indicted 14 people.
Full Article : bbc.com