By Andre Bagoo
February 05, 2014 – newsday.co.tt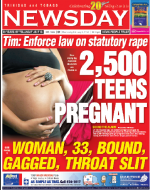 THERE ARE an estimated 2,500 teenage pregnancies per year, including several cases at the primary school level, Minister of Education Dr Tim Gopeesingh said yesterday as he called for the enforcement of laws against statutory rape in order to address what he said was a "huge", "frightening" and worsening problem.
The minister linked the problem to social conditions, saying half the population now live in single-parent homes.

"It is a frightening situation and the police are now moving to act on statutory rape and I believe this should be looked at very closely because this teenage pregnancy situation cannot continue," Gopeesingh said. "I have 27 years experience in this field. I found the problem was growing year by year."
The Minister was responding to a question filed in the Senate by Independent Senator Dr Victor Wheeler – an obstetrician gynaecologist with a practice in Tobago. Wheeler had asked for an account of the number of cases of child pregnancies documented in schools.
Of police action in cases of statutory rape, Gopeesingh later told reporters, "I believe if we continue to do that, we will see a drop in the teenage pregnancy rate. There is a strong co-relation with police action and deterrence. I feel if people are apprehensive of enforcement of the Children's Act, there might be some degree of fear."
In the Senate, Gopeesingh said by the time they reach the age of 19, an estimated 1,000 girls per year would have already had four pregnancies.
The Minister also said between 2008 to 2012 there were four reported cases of pregnancy at primary school, or in the under 13 age bracket. Of these four, three completed their primary school education and went on to secondary school. One did not.
For the same period, there were 153 reported cases at secondary schools, or in the 13 to 18 age bracket. Of these, 54 completed their education.
The cases of secondary school teenage pregnancies were largely in the Port-of-Spain division (52). Cases were also reported at Caroni (44); Victoria (15); St George East (26); St Patrick (3) among others. Gopeesingh noted the figures related to reported cases and did not cover drop-outs who may not have specified pregnancy as the cause of withdrawal from school. "There is under-reporting and a high drop-out rate," he said. "These figures relate to what has been reported to the Student Support Services Division at the Ministry of Education but we are certain there is a quite heavy drop-out rate from the student population which is not reported and which has been difficult to trace."
Attorney Douglas Mendes SC, a board member of the Family Planning Association of Trinidad and Tobago, yesterday noted the importance of enforcement of laws relating to statutory rape.
"There is no point having laws on the books if the law is not being enforced and seen to be enforced," the attorney said. "Statutory rape is clearly an offence and as an offence it is easier to prove than rape of an adult. In the case of the rape of an adult you have to prove a lack of consent but in the case of rape of a minor you simply have to prove there has been intercourse. Lack of consent is assumed. Therefore this is certainly an offence the police should have at the top of their list." Mendes noted there is a wide range of offences – beyond the offence of statutory rape – which teenage pregnancies may involve, particularly the cases involving family members.
On the need for balancing the interest of the child with the rigors of a long trial process, Mendes noted there are measures which are already put in place to protect the interests of the child such as in camera hearings and a ban on publication of certain details.
In relation to a recent reported case of a 12-year-old being pregnant, Gopeesingh said he was not in a position to comment. However, he disclosed he had requested a report in relation to that incident.
Gopeesingh said the State had reformed the school curriculum to include "moral values or ethics"; "citizenry development" and reformed social studies and sex education. He also said more than 200 guidance counsellors had been despatched to schools.
The Minister said teenagers who become pregnant receive "a lot of counselling".
"That is the approach that we use: we do not deprive anybody of an education just because they got pregnant," he said.
The Minister linked the root cause of the problem to social conditions and said half of the population now lived in single-parent homes. "It's an issue of socialisation and what these young teenagers have been looking for. They say they are looking for some degree of love because they feel that they are not loved and are looking for something to hold on to."
Gopeesingh also complained of a lack of social workers when it comes to the policing of the problem.
Recalling his own time as a gynaecologist at the Mt Hope Women's Hospital between 1981 to 2007, he said, "in every clinic that we started ten or eleven of the cases were teenage pregnancies. There is a scarcity of medical social workers in the country."
The Minister said steps will be taken to ensure greater "surveillance" of the student population.
http://www.newsday.co.tt/news/0,190241.html