By Stephen Kangal
February 06, 2013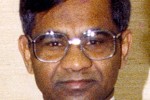 While the Minister of Planning and Sustainable Development Dr the Honourable Bhoe Tiwari is romanticizing in the spills, drills and thrills of the imagination at the expense of not giving his ministerial attention to the issues at the ground level relating to the protection and conservation of our fertile arable soils to support a thriving and sustainable food farming industry geared to foster and promote the agenda for achieving food sovereignty and security, we are now witnessing before our very eyes a cruel and ruthless desecration of the lands of the traditional food basket of Aranguez by an incipient and expanding concrete and steel jungle.

The Aranguez lands lying on a flood plain have been fertilized over centuries by the rich alluvial deposits of the Caroni and San Juan Rivers and top soils washed down the hills to the North. It is the common heritage of all Trinbagonians. Aranguez farmers have produced prolific amounts of vegetables for feeding the nation from having developed and renewed this area supported by many irrigation facilities. Aranguez has some of the best soils that we have for agriculture. Having seen the vandalisation of the farmlands of Lower Barataria it is now the turn of Aranguez South. We cannot forget the obscene and vulgar HDC housing located on the Ramgoolie part of the rich soils of the St. Augustine Nursery as part of the PNM voter-padding in the constituency of St. Joseph that paid rich electoral dividends in the 2013 bye-election.
But my heart bleeds to see how these Aranguez fertile and arable soils located south of the CRH are being currently bulldozed to make way for steel and concrete jungles. The Planning Ministry responsible for regulating land use policy and practice is doing nothing to stem this sacrilege and illegal devastation of our national patrimony. When did the Planning Ministry change the land use policy of the Aranguez lands from agricultural to industrial to allow for this desecration of these fertile arable lands?
These pristine lands located in South Aranguez are slowly being raped by the imposition of large warehouses and retail businesses in a grand lawless invasion of some of the best and most productive soils that were bequeathed to us by Mother Earth as an essential component of our national physical heritage.
This rape must be stopped in its tracks immediately.