By Stephen Kangal
March 29, 2012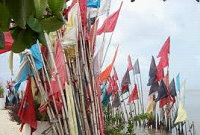 Years ago T&T's former HC to India, Mr. Reginald Dumas went visiting the rural villages of the Indian state of Bihar assiduously looking for "jhandis" and found them. Last week another Afro-Tobagonian, Opposition Leader the Hon. Keith Rowley used the occasion of the CPA meeting being held in India to search for the elusive "jhandis" and according to him found none. And this after the PM Kamla Persad-Bissessar just returned from her Indian safari when the question of the rurally remote, sometimes inaccessible villages (pur) of the States of Uttar Pradesh and Bihar from which the "girmitiyas" came to T&T bearing their 'Jahajee bundles" was well-documented.

Mr. Rowley was of the view that India was culturally speaking a homogeneous society and appeared not to know that our T&T Bhojpuri culture originated from these villages. Perhaps he should consult Dr. Sat Balkaransingh who recently presented a seminal work on the linkages between Indian cultural spaces in T&T and places in the Indian sub-continent.
Readers will recall that former PM Manning exulted in his no-shows at Indian functions and relegated "Indian" into a bad word.
Did Mr. Rowley also try to locate other local Indian practices such as areas cooking dhalpuri roti, doubles, Indians wearing "dhotis" and speaking the unique Trinidad-style Bhojpuri dialect? Did he try to look for and to attend a "katha" or a T&T-style Hindu wedding? Was cultural curiosity driving Rowley's search for "jhandis"? Or was he looking at contemporary, urban-based Indian religious practices to validate or discredit an omnipresent, Caribbean Hinduism symbolic ritual dating back to pre- 1845 Bihar/Uttar Pradesh?
Having confessed that he found no "jhandis" in the urban India including in the Palace of the Indian President Smtee Pratibha Patel that he visited, has he now concluded that T&T Hindus are imbeciles practicing a Caribbean-wide ritual that has neither origins nor manifestations in the towns of India that he visited?
Mr. Rowley from his recent futile search for "jhandis" in modern urban India reflects the ignorance and arrogance towards the cultural practices of the Hindus of T&T that is embedded within the DNA of the PNM past and present. In his diminishing quest for leadership of a culturally diverse society such as T&T and seeing that Caribbean Hinduism has now reached the shores of Tobago he must, as Opposition Leader of the PNM, seek to establish an outreach initiative to embrace the authenticity, persistence and validity of the cultural practices of the Indians, demonstrate his support for its genuine inclusion in the multicultural fabric of T&T and thereby salvage some dwindling electoral support as the necessary quid pro quo to become Prime Minister of T&T.