By Raffique Shah
April 01, 2012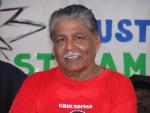 THE announcements of two new oil finds over the past two weeks generated excitement among many in the population. "God is a Trini!" screamed the Express headline, quoting the Prime Minister. Such was the importance of Petrotrin's discovery of 48 million barrels of relatively light crude, it warranted a full house of ministers and top company officials at the Cabinet Media Centre.

Wow! Soon, we can wallow in an additional 700 barrels a day of black gold. When this find is added to Bayfield's 32 million barrels "development potential", which would hopefully yield 1,000 barrels a day, some people actually believe we are about to swim in a sea of oil dollars. Indeed, the Prime Minister thanked Almighty God, and promised the nation that her government would not squander the windfall.
Now, forgive me for wondering for a moment, as I listened to the "breaking news", if I was in Guyana or Suriname, no offence intended to my Caricom brethren.
By way of explanation, I should alert Trinis to the fact that frenetic oil drilling has begun in these countries based on seismic data, and they both hope to make big strikes. Indeed, their expectations come from a decade-old geological survey that brought Brazil, a traditional oil importer, from a daily production of under 200,000 barrels in 1980, to standing almost on par with Venezuela, producing in 2010 some 2.1 million barrels a day—and counting.
In contrast, Trinidad and Tobago, which boasts of being among the first oil producing countries in history, moved from a high of 200,000 bpd in 1980 to around 91,000 bpd last year. In this context, I can understand why we would be excited over an additional 1,600 bpd, especially when oil prices are buoyant, and they are expected to remain that way for some time. Still, the government should not fan the flames of people's expectations on paltry discoveries that alter the reserves and production potentials marginally.
I am among the least of the apostles who should be addressing this issue. We have a phalanx of energy experts out there who know the arithmetic of oil and gas, the difference between aromatic hydrocarbons and sweet and sour crude, in other words, people who could expatiate on the subject. If they choose to stay silent, then I am entitled to make a fool of myself as I seek to demystify the oil numbers.
First, let me say that the Bayfield and Petrotrin oil finds are not insignificant, assuming they yield what the companies project they would. With our proved crude oil reserves stuck for some time at 800 million barrels, 80 million "new" barrels mean a ten per cent increase in reserves. Another plus is that both finds are in shallow water, hence production costs would be cheap: deep-water exploration and production (as is the case in Brazil) are costly. Also, over the past five years or so, there has been intense drilling activity on land and offshore, and many idle fields are likely to attract exploration companies following these two finds.
But we cannot start to crow, not just yet. I mentioned that our proved oil reserves stand at 880 million barrels (I've taken the liberty to add the new finds). That's 0.1 per cent of world reserves, which must be seen in the context of global oil production of 82 million barrels a day (2010). From another perspective, neighbouring Venezuela has recognised reserves of 211 billion barrels, although they have doubled that number by adding their tar sands in the Orinoco region. Qatar, which is comparable with Trinidad in population (1.8 million), and is our fierce competitor in the LNG business, has oil reserves of 26 billion barrels, and 890 trillion cubic feet of gas!
We cannot compete with the "biggies", endowed as they are with resources far richer than ours. So we must not get dizzy over a few barrels of oil, thankful as we may be for small mercies. When the "new" oil makes its way into the pipelines—and that could take more than a year—the Bayfield and Petrotrin finds would add around 1.5 per cent to our daily crude production, assuming we climb back to 100,000 bpd in 2012.
From a revenue standpoint, overall exploration and production formed 20 per cent of our GDP in 2010, and 44 per cent of government revenue (Central Bank data). People should know, too, that of the 50 million barrels of oil processed at Petrotrin's refinery in 2011 (137,000 bpd), the company imported 30 million barrels. The new finds, when they enter the system, would reduce the refinery's dependence on imported oil by 0.5 million barrels.
I am not dismissing the new finds as being wholly insubstantial. I am simply arguing that they would hardly impact on our reduced oil revenues, that we need to find much more oil and gas, and find it quickly. The Bayfield and Petrotrin finds did not happen overnight; Bayfield began exploration back in 2009, and I imagine Petrotrin has a similar timeline. So we are now benefitting from initiatives taken years ago. Government must intensify oil and gas exploration even as it seeks to diversify the economy away from its dependence on hydrocarbons and the downstream energy industries.
I have not touched the natural gas sector that cries out for urgent attention. Last year, we produced and utilised around 1.5 trillion cubic feet of gas from reserves that are estimated at around 14 tcf. Simple arithmetic tells us that if we do not strike some big new finds soon, in less than ten years the LNG, methanol, ammonia and associated plants would be forced to shut down.
It's a frightening prospect. But it's a real possibility.