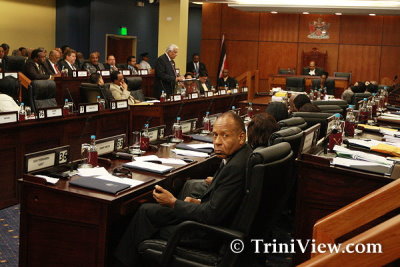 By Clint Chan Tack
October 18 2011 – newsday.co.tt
PRIME MINISTER Kamla Persad-Bissessar yesterday dropped several bombshells in the House of Representatives, exposing what she described as major corruption scandals which took place under the former People's National Movement (PNM) government.

Persad-Bissessar's first bombshell was that a $45 million scholarship programme was a "PNM slush fund" and her predecessor Patrick Manning had personally written then Culture and Community Development Minister Joan Yuille-Williams to "please handle quietly" the award of scholarships to certain persons. See Page 5A.
The Prime Minister said the Equal Opportunities Commission (EOC) had recommended that a forensic audit be undertaken on this programme. In addition, she said this matter would be referred to the Director of Public Prosecutions (DPP) and the Integrity Commission.
Just as parliamentarians were recovering from that disclosure, the Prime Minister dropped her second bombshell, announcing that legal action will be taken against former Udecott chairman Calder Hart, former Petrotrin chairman Malcolm Jones, former UTT and eTeck chairman Prof Ken Julien and other persons who were directors on boards of state enterprises while the PNM was in power.
She rubbed more salt in the PNM's political wounds when she revealed that six fast patrol vessels which the PNM bought from Australian shipbuilder Austal for $400 million have failed to function properly since they were handed over to the Coast Guard in February, 2010.
As Government MPs pounded their desks as Persad-Bissessar rose to give her contribution to the 2012 Budget debate, Works and Infrastructure Minister Jack Warner declared, "Mash them up PM. Mash them up!"
After criticising Opposition Leader Dr Keith Rowley's contribution and announcing that 27 European Union nations voted Trinidad and Tobago as the best tourist destination for this year on October 9, "in the midst of the state of emergency," Persad-Bissessar disclosed that Government had evidence that its PNM predecessor had breached citizens' fundamental rights which were enshrined in the preamble of the Constitution.
Recalling the country was rocked in 2009 by a scandal in which more than $45 million was spent by the PNM on secret scholarships, Persad-Bissessar said the government minister who presided over that debacle "had already (been) hidden in a foreign post away from prying eyes of the media and investigators" and was replaced by current Port-of-Spain South MP Marlene McDonald.
Recalling that on December 4, 2009, McDonald had denied the wrongdoings which took place under that scholarship programme and promised an investigation, Persad-Bissessar said, "Of course that investigation did not happen."
Looking at McDonald, who is now Opposition Chief Whip, Persad-Bissessar said, "I do not believe the Member for Port-of- Spain South would have engaged in such deceit. I do believe that she was misled and in being misled she inadvertently misled the Parliament."
Noting that Senator Devant Maharaj raised this matter in 2009 with the EOC, the Prime Minister quoted from an October 7 letter which Maharaj (now Transport Minister) received from the Commission.
Government MPs cried "shame, "scandalous" and "criminals" as the Prime Minister quoted sections of the EOC letter in which the Commission raised questions about the selection criteria for the scholarships and use of taxpayers' dollars in this programme.
"This was a PNM slush fund," Persad-Bissessar declared as Government MPs thumped their desks.
Reminding Opposition MPs that the EOC, under the chairmanship of Prof John La Guerre, was appointed under the PNM, Persad-Bissessar caused Government MPs to gasp and howl when she said with respect to one scholarship applicant there was a letter from Manning to Yuille-Williams in which Manning asked her to "please handle this quietly."
"Great is the PNM," Sports Minister Anil Roberts scoffed.
Claiming that Rowley's objection to a $50 million allocation in the Budget to the Office of the Attorney General for forensic investigations was because the PNM did not want any probe to take place, Persad-Bissessar said she has instructed Attorney General Anand Ramlogan to launch a forensic audit into this programme. In addition, the Prime Minister said this matter will also be referred to the DPP and the Integrity Commission.
After challenging any PNM MP to prove that the EOC's findings were wrong, Persad-Bissessar startled Government MPs when she said the ethnic distribution of the scholarships was seven percent East Indian and 93 percent non-Indian.
"Not even a dougla?" asked Roberts.When Persad-Bissessar said 11 percent of the scholarships went to persons in Rowley's Diego Martin West constituency, Rowley warned her, "You're barking up the wrong tree."
Noting that last Friday, Manning dared Government to "lock him up" and Hart as well, Persad-Bissessar reminded him that he once told former Opposition Leader Basdeo Panday that "jail ent nice."
She then announced that on October 14, the board of Udecott "authorised the commencement of legal action" against Hart "for fraud, negligence and breach of statutory duty" with respect to the award of a $368 million contract to Sunway Construction Company for not revealing his family ties to that company.
"I wish to also announce that forensic accountant Bob Lindquist has also completed his investigations and has recently handed over his report to the Head of the Anti-Corruption Bureau," she added.
Sunday Newsday had exclusively reported on June 12 that the Attorney General disclosed he would pursue civil action against Hart.
Persad-Bissessar yesterday said civil action will also be taken against Hart with respect to the award of packages to Hafeez Karamath Ltd for the Brian Lara Stadium in Tarouba.
The Prime Minister did not stop there.
She announced that pre-action protocol letters had been served to Jones and other relevant directors at Petrotrin for negligence and breach of statutory duty with respect to the World Gas-To-Liquids (GTL) project.
Pre-action protocol letters have also been sent to former e-Teck chairman Professor Ken Julien and other former e-Teck board members regarding a sum of $30 million paid to Bamboo Networks of Hong Kong to establish an information technology industry.
Persad-Bissessar's final salvo was at the $400 million spent by the PNM to acquire six fast patrol boats for the Coast Guard.
Displaying a chart to all MPs, Persad-Bissessar (who is head of the National Security Council), showed that five of the vessels had malfunctioned 72 times since being acquired.
Condemning the Opposition for accusing her administration of non-performance, discrimination and corruption, Persad-Bissessar told PNM MPs, "You have no moral authority. You must first atone for your sins."
Observing that Rowley was again not wearing the PNM's trademark balisier tie at yesterday's sitting, Persad-Bissessar claimed that he had "cut his balisier ties."
Reminding PNM MPs that ten of them were in Manning's last administration and were silent when Rowley raised concerns about corruption with respect to Udecott and other matters, Persad-Bissessar advised them to remember the words of former PNM government minister Ken Valley who died earlier this year.
"You can run but you cannot hide."
http://www.newsday.co.tt/news/0,149105.html