By Vijay Prashad
April 26, 2021 – counterpunch.org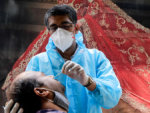 It is difficult to overstate the grip of COVID-19 on India. WhatsApp bristles with messages about this or that friend and family member with the virus, while there are angry posts about how the central government has utterly failed its citizenry. This hospital is running out of beds and that hospital has no more oxygen, while there is evasion from Prime Minister Narendra Modi and his Cabinet.

Thirteen months after the World Health Organization (WHO) announced that the world was in the midst of a pandemic, the Indian government looks into the headlights like a transfixed animal, unable to move. While other countries are well advanced on their vaccination programs, the Indian government sits back and watches a second wave or a third wave land heavily on the Indian people.
On April 21, 2021, the country registered 315,000 cases in a 24-hour period. This is an extraordinarily high number. Bear in mind that in China, where the virus was first detected in late 2019, the total number of detected cases stands at less than 100,000. This spike has raised eyebrows: is this a new variant, or is this a result of failure to manage social interactions (including the 3 million pilgrims who gathered at this year's Kumbh Mela) and to vaccinate enough people.
At the core is the total failure of the Indian government, led by PM Modi, to take this pandemic seriously.
Full Article : counterpunch.org