By Dr Selwyn R. Cudjoe
April 26, 2021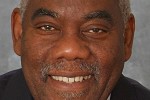 On the same day Derek Chauvin, a white police officer in the US, was found guilty of murdering George Floyd, a black man, Gerald Ramdeen, attorney for suspended Inspector Mark Hernandez, head of the Special Operations Response Team (SORT), defended the innocence of Hernandez, who was charged with misbehaviour in public office.
Ramdeen remarked: "Mark represents a true patriot of Trinidad and Tobago and was responsible for weeding out heinous criminals and monsters who plague society off the streets. If there were more patriots like him Trinidad and Tobago would not be in the situation it is today." (Express, April 20.)

Hernandez was arrested at his home for questioning into the deaths of Joel Balcon and Andrew Morris, two young black men who were murdered for their presumed participation in the kidnapping and killing of Andrea Bharatt that took place earlier this year.
Autopsies concluded that both Morris and Balcon died of "blunt force trauma". Their families "believed that the men were beaten to death by police as the officers attempted to obtain information on Bharatt's whereabouts".
Nothing can lessen the tragedy of Bharatt's death and the atrocious crime that was committed against her. The public interest in bringing the culprits to justice remains a top priority. However, when a lawyer for the defence refers to young black men as monsters, or cockroaches, or pests, as others have, then one sets the stage for the police brutality of which Chauvin was found guilty recently.
Ramdeen notes that Hernandez dedicated 23 years of his life to serving the people of T&T and should be honoured for that service. He calls him "a patriot". Hernandez was even a nominee for the post of Deputy Commissioner of Police. Chauvin was a member of the Minneapolis Police Department for 19 years (he served from 2001 to 2020) when he committed his dastardly act. His length of service didn't prevent him from seeing George Floyd as a brute void of human feelings.
This is the danger that arises when we depict black men as monsters, cockroaches and pests. It gives law enforcement officers carte blanche authority to treat them as animals. Black people have been fighting such dehumanisation for over 200 years. Frederick Douglass's Narrative, published in the United States in 1845, was serialised in 1850 in the Trinidadian, a local newspaper published by blacks. In a note that accompanied its serialisation, George Des Sources, editor of the Trinidadian, wrote: "We invite the Honourable Mr [William] Burnley, [the major slave holder in the country] and others to begin its perusal at once. They may therein find some remedy for their infatuated dislike for 'African Materials'."
Ida B Wells, an investigative journalist who was born in Holly Springs, Mississippi, in 1862, chronicled the lynching of black men and women in the US by white people for allegedly raping white women and for being successful business people. She wrote: "The more I studied the situation, the more I was convinced that the Southerner had never gotten over his resentment that the Negro was no longer his plaything, his servant, and his source of income. The federal laws for Negro protection passed during reconstruction times had been made a mockery by the white South where it had not secured their repeal." (Crusade for Justice)
When the Commissioner of Police refers to young black men as cockroaches, others call them "pests", and Ramdeen sees them as monsters, they reinforce a stereotype that has been ingrained in the national consciousness for over 200 years. However, the T&T paradox is slightly different: even though the perpetrators of cruelty towards black men were not always white, black police officers may be acting out of a similar disdain for black men that white police officers have developed over the centuries.
On Monday, a judge in South Carolina upheld a 20-year prison term for white former police officer Michael Slager, who in 2015 was convicted of shooting an unarmed black man, Walter Scott, five times in his back after a traffic stop. In rejecting Slager's appeal for a lighter sentence, Judge Richard Gergel, ruled: "In the end, even a great lawyer could not overcome the video of Slager shooting nine times at a running man's back and then lying about it." (Atlanta Black Star, April 22)
Hernandez may be a patriot and must be considered innocent until he is found guilty by a court of law, but the recent killings of black people in the United States and T&T suggest that many of the perpetrators of these murders callously disregard the humanity of black men and women.
Colin Palmer, one of the Caribbean's more distinguished historians, argued that "the millions of African-descended peoples were united by a past based significantly against racial oppression, and despite their cultural and political variations, diaspora peoples faced broadly similar historical challenges in realising themselves" (The New York Times, July 11, 2019). This is why we feel the killing of black people in the US so deeply.
Chauvin's attitude towards black people mattered. He never saw us as human beings. This is why people in public life ought to be careful of how they characterise those they are responsible to serve. This is especially true for how they describe young black men.
Des Sources' warning about the dislike of "African materials" possesses a fundamental truth that continues to inform much of what Carl Jung describes as our "collective unconscious", the deep psychological thoughts and feelings that result from "particular influences, traditions, and excitations" of which we are not consciously aware.
One hopes that T&T officials, particularly our police officers, begin to see their fellow citizens as human beings rather than monsters who need to be contained.
The nation's salvation depends upon it.