By Raffique Shah
May 03, 2021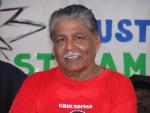 By a curious twist of fate, I was browsing through some books on Amazon when I saw a digital copy of one of the finest historical novels I've read, Freedom at Midnight, co-authored by Dominique Lapierre and Larry Collins. I couldn't resist buying it. I would find the time to reread their excellent record of India's (and Pakistan's) independence in 1947.

I thought that Freedom at Midnight would be a good read some 40 years after I first read it. What I discovered in this edition is that Collins had passed on, and Lapierre dedicated a new, quite in-depth story-within-a-story about how they came to write the original. While India and Pakistan might have been news or of interest to many people, it did not seem to be the most exciting theme for a duo that had written the explosive doomsday thriller, The Fifth Horseman.
Besides, Collins was American and Lapierre, French—two nations that were far removed from developments in India.
From Lapierre's retrospect, I learned that it was his editor who planted the seed of a good story, telling him about a half-naked, half-pint of a man he had once interviewed in India. That man, Mahatma Gandhi, had, more by inaction than action, triggered the earthquake that shook, and then dismantled, the largest empire ever in the history of humankind—the British Empire. In their research, besides encountering intriguing, sometimes fascinating, characters who had played their part in sending Britain packing from India, they also learned that while The Mahatma was seen as the ultimate Apostle of Peace, India and Indians were a very violent lot, as they demonstrated time and again.
For example, there was hardly another country operating under a democratic system of government that has seen so many of its frontline leaders murdered by citizens. Gandhi, who seemed to have courted death during all of his activist's life—and he finally met his assassin in New Delhi shortly after independence. Nathuram Godse, an equally nondescript Indian, greeted the Mahatma reverentially ("Bapuji!") before firing several bullets into his frail frame. Godse and another accomplice were hanged for their roles in the murder. But to this day they remain heroes to many Indians, in this case for being willing to kill or die for the creation of Hindutva, a Hindu state. Gandhi was a devout Hindu, but he was willing to die for a united, secular India in which many religions co-existed.
Also encountering violent deaths were Prime Minister Indira Gandhi, in 1984, and Indira's son, Rajiv who had succeeded his mother as PM. Many other politicians have had their careers terminated by violence. Of course, India is not singular in this regard. In neighbouring Pakistan, several PMs have met bloody ends to their careers. Indeed, similar to what occurred with Mrs Gandhi and her son, Rajiv, Zulfikar Ali Bhutto was executed by hanging, and his daughter Benazir felled by a bullet as she campaigned to return to office.
As I perused the book on India, that country and its current PM, Narendra Modi, as well as its acute state of Covid infections and deaths, come to mind. Modi, who sees himself as a Donald Trump duplicate, seems bent on taking the second most populous country in the world down a road similar to what Trump had mapped out for Americans. Indians are dying like flies all across that vast country, mere weeks after the boastful Modi had preened on the world stage declaring India an exemplar far superior to other OECD countries. He promoted it as the "pharmaceutical capital" of the world—which it is, if measured by the number of companies operating there, manufacturing genuine and generic medications.
Where Modi is allowing bombast and hubris to get the better of him, more so his ambition to be a world-ranked leader, is when he fails to see that while India is manufacturing the most Covid vaccines of any country in the world, it does not control the manufacturers' production or distribution networks. Even more damning, he seems not to understand that while the pharmaceutical industries make India look like being in the elite countries league, its domestic healthcare system is severely lacking, hence the acute shortages in beds, ICUs, and a basic feature in oxygen.
Also, he has totally mishandled the latter part of the Covid crisis, allowing for the festival Holi, the closest thing to our Carnival, to run free—meaning tens of millions of people jamming, and maybe "wining", too—to send the virus and the pandemic to unbelievable levels.
Now, India faces shortages in firewood for cremations, space for burials, buckets for tears, room for anger. Hopefully, it will be spared the vortex of violence it has proved to be capable of ­entering.