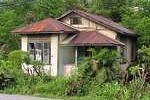 THE EDITOR: I'd like you to allow me a small space on your website to address one of the many elephants that occupy this large room that we call Trinidad and Tobago. With all the recent talk about the high cost of living I think that this would be a most appropriate time to do so.
I recently read a short article in the Trinidad Express about the high cost of house and apartment rentals in Trinidad and Tobago today. In the article, a number of landlords defended their exorbitant prices saying that the costs of building materials have gone up and therefore to cover these costs, they have upped their prices. Fair enough, right?

Wrong.
Even with the current prices of steel and concrete the Mathematics involved in this disproportionate rise in the price of rent still escapes me. Especially since the majority of these landlords still require the tenants to provide extra money for their own light and water rates. How could someone of sound mind and good conscience charge a young working person or couple almost $3 000TT for a two bedroom apartment where lights and water are not included and the rental property is nowhere near any main road or major city? If anyone does not believe me, I invite you to call the numbers in the rental section of your favourite dailies' classifieds.
I am currently renting an apartment for $2 200 a month, and my landlady, a teacher just like myself, consistently harasses me via text message at the end of every month, asking me when I'm going to pay my rent. This is the same woman who on several different occasions has given me (in her own mind) glowing advice about taking a second job, "because there is no future in teaching," and has the gall to ask me if I've applied to the HDC for a house yet. Meanwhile amenities which were included in my contract, including an air-conditioning unit, indoor washtub and backup water supply are non forthcoming. I brought this to her attention, demanding that she put these things in place or drop the rent to a price where I'm not paying for things I don't have. All I got was a sob story about her own expenses and personal life. Then after receiving the rent she immediately buys tiles, concrete and steel and hires a slew of Guyanese workmen to build cupboards and redo all the floors in her house upstairs. I'm not kidding, there is someone hammering above my head as I type this letter.
A friend of mine who also rents told me just yesterday that her landlady blatantly palms off the electrical bill for the whole house, her own area included on her in addition to the rent, which is even higher than mine. However that did not stop her from turning off the breaker for the water pump when leaving the house for the night, leaving my friend without a water supply of any kind, while she went to visit her grandchildren.
People talk about crime in this country, demanding that the government do something about it. However, the number of criminals who are highlighted in the newspapers' front pages cannot begin to compare with the legions of those who lurk in the daily classified ads. Everyday they deny hardworking citizens of this country financial stability and peace of mind. They take advantage of the nonexistence of enforced tenancy laws and subjugate honest, hardworking citizens with their greed and blatant bigotry simply because they cannot afford to buy a house of their own. Perhaps, with the price of rent preventing them from saving a single cent, they never will.
Lady Ishtar