By Raffique Shah
Sunday, March 16th 2008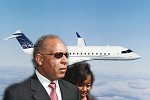 AS I listened to billionaire-businessman Arthur Lok Jack reel out the numbers surrounding Caribbean Airlines (CAL) decision to purchase a Bombardier Global Express SRX, I was puzzled. If anyone knows anything about basic "counting", it should be a billionaire. If anyone knows about price-gouging, it's invariably the very wealthy. After all, that's how most among the super-rich become wealthy. At his media conference last week, Lok Jack reeled out some numbers that stunned me.

Some numbers he mentioned in justifying purchase of the jet do not quite add up, and here I seek guidance from him and CEO Phillip Saunders. According to Lok Jack, we must sign for this jewel-of-an-aircraft by tomorrow, or lose it to a queue of prospective buyers that stretches from Montreal to Moscow. Having made a refundable downpayment of US$500,000, the government (read taxpayers) must cough up US$63 million, with another $2 million added for spares to secure the deal. Additionally, LJ said, we need to add another $1.5 million a year for crew, maintenance, etc.
CAL would then secure the luxury liner, which will be delivered later this year. And yes, CAL did its arithmetic, which showed the SRX would earn its keep, even make a profit. How so? Well, Lok Jack confidently added, that's why government (taxpayers again!) had to commit itself to 600 hours of travel-time on the jet. The charter fee is a modest US$12,000 to US$15,000 an hour. I did a double-take when he mentioned those numbers. A 2004 Los Angeles Business Journal analysis showed that it was cheaper for groups of executives (as distinct from individuals) to use charters instead of regular commercial flights. The article compared the charter fees with first class travel on regular airlines, which the writers thought were engaged in price-gouging.
Having studied the numbers, I am convinced that Lok Jack and CAL and the Government are trying to sell us a half-picked duck, as Trinis would say. Or they think we are all fools-because most of us don't have the money to even enquire about such services. What they did not cater for is the fact that we have access to massive amounts of information at the click-of-a-mouse. Here's what I came up with for charter costs.
Large Jets-Cost per hour (in US dollars):
Boeing 727-100 $3,805;
DC-9-30 $3,686;
BOEING 737-500 $2,311;
BAC 1-11-400 $2,208;
GULFSTREAM 11 $1,939;
CHALLENGER 600 $1,830;
FOKKER 100ER $1,813;
GULFSTREAM 111 $1,795;
GULFSTREAM IVSP $1,614; and
GLOBAL EXPRESS $1,493!
Now, even if costs have increased by 100 or 200 per cent between 2004 and today, how did Lok Jack come up with US$12,000 to $15,000 per hour charter fee? A 200 per cent increase in fees would put the Global Express at around US$4,500 per hour. That's almost four times cheaper than what Lok Jack wants to charge users of the CAL service. Maybe the Government would pay up for their travel, since they are spending taxpayers' money, not their own. But which billionaire would use his money to charter our jet when he can access many aircraft-options at prices far cheaper than what CAL is suggesting?
Mr Manning and his Cabinet cannot be part of this elaborate scheme to hoodwink taxpayers. As I suggested in my previous column on this subject of a private jet, the Prime Minister can avail himself, and by extension the government, of a less-costly jet for private travel to the destinations he frequents. For longer journeys he (or whoever qualifies for using the plane) can charter long-range jets at prices close to those mentioned above. I don't know that anyone would be angry with that, except perhaps Mr. Panday, who, with Jack Warner, flew to South Africa on a private jet.
I'll add these facts to what I've already written on this subject. Research shows that outside of big, powerful nations like the USA, Canada, the UK and Australia (to name a few), only oil rich Arab countries that are run by monarchs and sheiks own fleets of private jets. Singapore, for example, always cited by people like Lok Jack as the perfect example of a small country that has attained first world status on little resources, has no presidential aircraft. With that country's "sovereign fund" far exceeding anything we can dream of, its government does not see the need to buy a private jet for the Prime Minister.
Among the very prosperous European countries, Norway, which ranks very high in "sovereign funds", does not own a private jet. The monarch, the Prime Minister and other government officials, travel on Scandinavian Airlines. If the need arises, they charter private jets. In Sweden, the government owns two Gulfstream jets, and Switzerland three. A common thread that runs through these countries is the standard of living of their citizens, which is among the highest in the world.
By tomorrow we shall learn if the PM really cares about his people, about how our money is spent.