by Heru
March 17, 2008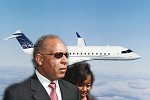 Patrick Manning and Caribbean Airlines have been facing widespread public outcry over their attempt to purchase a $400 million luxury jet from Bombardier for the government's official use. Minister of Works Colm Imbert, Minister of Finance Mariano Browne, and Caribbean Airlines' chairman Arthur Lok Jack have been the main defenders and spokespeople for the government on this issue.

Following public outcry, Colm Imbert stated that the deal was not finalized and that government was insisting on an anti-corruption clause before closing the deal. I immediately thought the government was looking for a face-saving way out of that deal. That deal was made without such concerns as is evident by the fact that a deposit was made on the jet without an agreement on this anti-corruption clause. The government tried to make it appear that the public's main concern with this deal was with possible kickbacks and the government was insisting on an anti-corruption clause in the contract with Bombardier before finalizing the purchase. The attempt to spin public concerns has failed. The general sentiment of the public is that this expenditure is a waste of taxpayers' resources especially at a time the country is plagued with so many social ills, including rising crime and cost of food.
The government has already stated that it intends to buy another jet if this deal falls through. They may feel that the public would be receptive to a less expensive jet as has been suggested by Raffique Shah, but I am not.
In my view, the government should not be buying a jet at this time. They have not made the case for it being necessary and they certainly have not been transparent about this deal. In fact, the Minister of Finance Mariano Browne stated on television last week that a cost benefit analysis was done with respect to buying this jet and he would not recommend the details be made public. Someone needs to educate this arrogant minister about the fact that they are using public funds and that government IS accountable to the public.
Before the government considers using taxpayers' money to buy or even lease a jet, the public should first know the cost of the service. Government transparency should include details of the cost of government travel over the past five to seven years (including charted flights) and the inconveniences they face with their current travel arrangements. Only then can the public consider if buying or leasing a jet is a more efficient use of our resources.
As it stands, this entire affair reeks of a sinister plot to dupe the public into paying for Patrick Manning's ostentatious fantasies. We should raise our voices in unison and say NO to that.