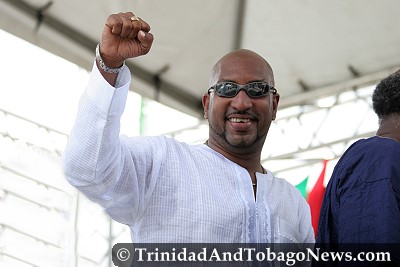 Unnecessary row
Express Editorial – August 7, 2010
THE fresh row that has broken out between representatives of the Government of Trinidad and Tobago and the American Embassy in Port of Spain over the issuance of US visas entered a decidedly nasty phase last week.

As this country's Minister of Sport and Youth Affairs, Anil Roberts, waded in to the embassy's Public Affairs Officer, for remarks he made in response to the Minister's earlier comments concerning the frustrations being faced by nationals.
To be sure, the matter has been an ongoing one inherited by the current administration, Mr Roberts saying he raised some concerns with the Minister of Foreign Affairs on the very day that they were being sworn-in to office.
But without re-entering the substance of the latest contretemps, the Minister's comments were clearly ill-advised, without tact or finesse and certainly out of place, given that he is not the minister responsible for foreign affairs.
Full Article : trinidadexpress.com
***
Embassy may give reasons for denial of US visas
In the face of growing concern about denial of entry to Trinidad and Tobago (TT) citizens to the United States, US Ambassador to Trinidad and Tobago, Beatrice Wilkinson-Welters yesterday indicated that attempts will be made to better handle the matter.
Embassy to give reasons for visa denials
You may know soon exactly why your visa application was denied. This was the statement made by United States Ambassador Beatrice Welters, during a meeting with Foreign Affairs Minister Dr Surujrattan Rambachan yesterday.
***
Rowley: Reckless move by Roberts
By Ria Taitt – August 6, 2010
Saying the people of Trinidad and Tobago had nothing to gain by "insulting" the people who conducted American business in Trinidad and Tobago, Opposition Leader Dr Keith Rowley suggested yesterday Sport Minister Anil Roberts's criticisms of a US Embassy official should not be encouraged.
Full Article : trinidadexpress.com
***
US ambassador defends embassy's visa process
By Aabida Allaham – August 5, 2010
UNITED STATES ambassador to this country Beatrice Welters has come out in defence of her consular officers, saying they always process visa applications according to the letter of the law.
"We take the letter of the law very seriously and, thus, all of our processes are according to US legal norms, especially those enshrined in the Immigration and Naturalisation Act of 1952," she said in a press release.
Welters's statement was issued following claims made by Minister of Sports and Youth Affairs Anil Roberts the visa-selection process was not fair.
Full Article : trinidadexpress.com
***
US Embassy official 'farse and out of place'
By Aabida Allaham – August 4, 2010
PUBLIC Affairs Officer at the United States Embassy, Matthew Cassetta, is "farse and out of place", says Sport and Youth Affairs Minister, Anil Roberts.
"As a minister here to serve the people, if the media asks me a question, I choose to answer, I choose not to say no comment…because the media represents the views of the people," he said.
Roberts was speaking at a press conference at the ministry's head office in Port of Spain yesterday in response to criticisms by Casseta that he followed the wrong protocol in his response to an Express reporter who approached him after he spoke to someone protesting about the embassy's visa system.
Full Article : trinidadexpress.com
***
T&T should use official channels
By Raphael John-Lall – August 3, 2010
T&T Government ministers should use the official means of communication that are available to them if they want to communicate their views to the US Embassy.
Public Affairs Officer at the embassy, Matthew Cassetta, told the Guardian that yesterday in a telephone interview in which he was commenting on media reports that relayed what Sports Minister Anil Roberts had said concerning US visa applications. According to media reports yesterday, Roberts said on Sunday the US Embassy needed to have a clear policy on visas and mentioned the names of two athletes who were denied visas to study in the US. Commenting on this, Cassetta said there were avenues for T&T Government Ministers to voice their concerns to the embassy.
Full Article : guardian.co.tt
***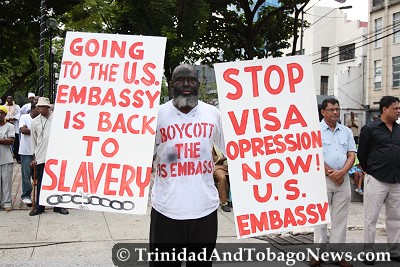 Anil wants answers from US on visa denials
By Jensen LaVende – August 2, 2010
THE United States Embassy should give citizens of this country a better explanation for denying them visas, Minister of Sport and Youth Affairs Anil Roberts said yesterday.
Speaking with the Express during the re-enactment of the Declaration of Emancipation on the Brian Lara Promenade, Port of Spain yesterday, Roberts said he agreed with some of the issues raised by a man who carried two placards objecting to the US visa policy.
"As citizen we want a good relationship with the US, we are friends, we are trading partners but really and truly more explanation should be given to citizens as to why they are being denied," Roberts said.
The protester Addil Abdullah, who said that he did not want a US visa, held placards during the emancipation celebrations in Port of Spain.
Full Article : trinidadexpress.com