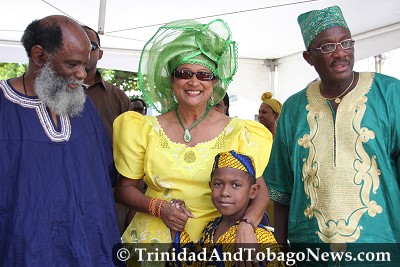 Emancipation Day Celebrations 2010 in pictures
Kamla: Emancipation about struggle, triumph
PRIME MINISTER Kamla Persad-Bissessar yesterday urged the nation to not only see Emancipation Day as merely a public holiday but rather to reflect on the struggles of the ancestors of Afro-Trinbagonians who rose up from the chattel of slavery to take their rightful place in a free society.

Kamla: Let's live as one
Prime Minister Kamla Persad-Bissessar is calling on all citizens, regardless of race, colour or creed, to live together as one. Persad-Bissessar made the call while delivering the feature address at yesterday's Emancipation Day ceremony, at Brian Lara Promenade, Port-of-Spain. Dressed in yellow African garb, with a bright green headpiece, Persad-Bissessar said a prerequisite for any successful and unified nation was for its people to be fully integrated into "the collective whole." She said this year's celebrations sought to "reawaken" the spirit of liberty. She said: "I am not speaking about denial of heritage or the suppression of identity," she said. "Rather, 'I belong here,' must echo with conviction from the lips of every citizen. 'I have a valuable part to play in the development of T&T,' must be the sentiment and stance of every citizen."
Mr DJ, run the track!
PRIME MINISTER Kamla Persad-Bissessar made waves at Emancipation Day celebrations at the Jean Pierre Complex, Port-of-Spain, singing Bob Marley songs, acting as MC/DJ and launching what can only be described as a charm offensive.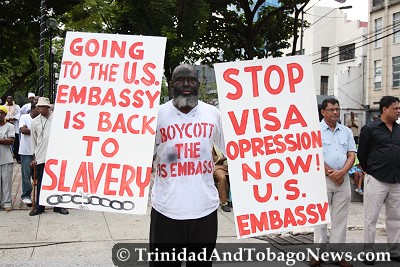 Anil wants answers from US on visa denials
THE United States Embassy should give citizens of this country a better explanation for denying them visas, Minister of Sport and Youth Affairs Anil Roberts said yesterday.
When freedom came
DRAPED in dashikis, kaftans and agbadas of all colours and sizes, men and women braved the early morning sun yesterday to witness the re-enactment of the declaration of Emancipation.
2-in-1 celebration in Tobago
The Tobago Heritage Festival culminated yesterday with Emancipation Day celebrations along the streets of Bon Accord in Tobago, to the Pigeon Point Heritage Park.
Is your mind free or that of a slave?
"IS YOUR state of mind that of a free man or a slave?" Chief Secretary of the Tobago House of Assembly (THA) Orville London asked Tobagonians yesterday at Emancipation Day celebrations at Pigeon Point.
Past slavery scars, present reality
'Turbulent times' ahead for blacks in T&T—Cudjoe
Emancipating our history
During the recent general election campaign, at the time when Mr Manning was seeking to insult and belittle Makandal Daaga, a younger colleague of mine at work asked me who Daaga was and what was his story. Barely able to hide my astonishment that he did not know I tried to piece together for him a brief summation of the events of 1970 and Daaga's role in those events.
There's a connection with TT
SURINAME'S Ambassador to Trinidad and Tobago Fidelia Graand-Galon believes there is a cultural connection between both countries. Speaking on the weekend at the Emancipation Village at the Jean Pierre Complex, the Ambassador expressed delight in participating in this country's observance of Emancipation Day.
Rambert Village's French-Scottish history
RAMBERT village, a small village on the outskirts of San Fernando has a history that includes the Scottish and French occupation of the Naparimas during the 18th century.
August 01, 2010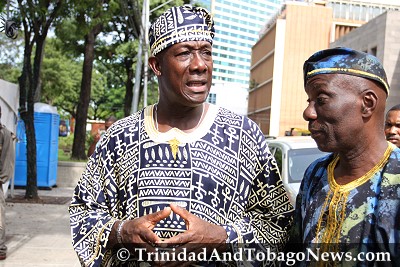 Rowley: August is a significant month
"August is the country's symbolic freedom month because so many significant events happened in this month," Opposition Leader Dr Keith Rowley said in his Emancipation Day message.
Freedom morning come
Today's celebration of Emancipation Day will take on a virtual national flavour, bolstered by $2.7 million in grants from the People's Partnership Government, a tacit recognition of the importance of the day to the descendants of freed African slaves.
Freedom morning come
Today, August 1, 2010 is Emancipation, the day on which chattel slavery finally ended in Trinidad and Tobago, the English-speaking Caribbean and other countries under British rule, 172 years ago.
Emancipation and nation building
The observance of emancipation is an important part of nation building today for several reasons.
Suriname joins Emancipation celebrations at Lidj Yasu Village
Reawakening the spirit of liberty
Our common destiny: Emancipation Day goes international
Looking back to move forward
Extracts from Remarks delivered by Eintou Springer at the Ministry of Arts and Multiculturalism Emancipation Celebration, July 28th, 2010
Memory as a tool of liberation
Max: Preserve independence of mind
President George Maxwell Richards in his Emancipation Day address to the nation said freedom is not a licence for disorder, particularly when it signals intimidation.
PM: Celebrate triumph over oppression
PM a no-show at Emancipation dinner
Prime Minister Kamla Persad-Bissessar failed to attend an Emancipation Awards and dinner function last night where she was scheduled to give the feature address.
Warner: Reject all forms of discrimination
Chairman of the United National Congress and Chaguanas West MP Austin Jack Warner says the people of Trinidad and Tobago must strengthen their resolve to reject all forms of discrimination and marginalisation as TT celebrates Emancipation Day today.
…Jack: T&T must reject discrimination