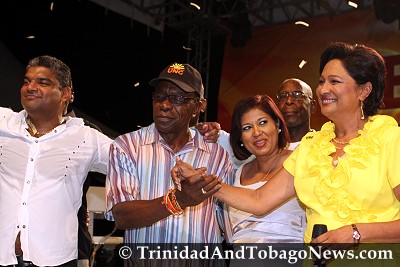 By Raffique Shah
August 01, 2010
THE People's Partnership has stamped its authority to govern the country over the next five years by convincingly winning two elections in as many months. Now, its leadership must be sensitive to the high expectations among a polls-drunk populace that was summoned to vote in six elections in ten years. The new Government faces the onerous task of governing a nation that can at times be overly demanding, somewhat fickle, and quick to condemn.

Topping the list of expectations is people's hope that the Partnership will endure. They are aware that coalition governments tend to fragment in short order. Those who lived through the NAR debacle of 1986-91 will not forget how that cookie crumbled in less than two years. True, the main architect of the fiasco was Basdeo Panday, a man who had established his mala fides some 10 years earlier. I, more than most, knew what Panday was capable of undoing. Within a year of the ULF storming the political stage in 1976, Panday smashed the hopes and dreams of so many young people who saw in that party the potential for an integrated entity that, within a few years, would deliver us from the evils of racial politics.
It was not to be. Errol McLeod and David Abdulah can attest to what I have written. Mercifully for the UNC component of the Partnership, Prime Minister Kamla Persad-Bissessar rid the party of its divisive yoke. However, there remain elements in the UNC who see the People's Partnership's overwhelming victory as theirs, not their partners'. That's a dangerous path to tread. The UNC on its own could never have overcome the PNM, not even the wreck to which Patrick Manning and his minions had reduced the once-mighty party.
Now is not the time for preening. It's a time to perform. The parties that together brought home last Monday's local elections wipe-out of the PNM must refrain from one-upmanship. The East West Corridor might have remained PNM were it not for the images and hard work of the COP, Makandal Daaga and McLeod.
The second challenge the Government faces is delivering on its campaign promises. No one expects the coalition to deliver everything it promised—no party has ever done that, not that I know of anyway. But people expect the new Government to show good faith on several critical issues. PM Kamla has boasted of having fulfilled several of her promises within the few weeks her Government has been in power.
That is true, to an extent. Take the old age pension as one example: the Government has made good on its promise to increase the monthly stipend to $3,000. But the bigger problem most senior citizens face is they fail to qualify for this relatively small sum, often on spurious grounds. Officials charged with the responsibility must be closely monitored, even disciplined, if they are found to be acting arbitrarily. Too many people who have worked hard during their productive years are cast aside in their winter years. That's an injustice that needs to be addressed in conjunction with the increased pensions.
The new Government must also learn from the mistakes of its predecessor. Mr Manning, in implementing what he saw as his legacy to the nation, dismissed those who insisted he was making huge mistakes. His wild-and-expensive building spree, the rapid rail project, the three aluminium smelters he vowed to build, his Otaheite offshore island—they were not dreams, but nightmares-in-the-making. Patriotic citizens warned him against going down those roads.
He adopted an air of omniscience, preferring instead to listen to the misleading echoes coming from his minions: yes, boss…you are divine. Now that he has damaged his party almost beyond repair, he has bequeathed restoration of the wreck to the one member who had the audacity to warn him of his errant ways: Keith Rowley.
The Government would do well to look no further back than Manning as it charts a way forward. Already, we are seeing some signs of intolerance, even arrogance. Jack Warner's assault on Senator Helen Drayton, branding her "ah PNM" when she sought only to offer advice, was in poor taste. Attorney General Anand Ramlogan's all-too-frequent intemperate pronouncements are cause for concern. Even the PM's announcement at a political meeting that she had ordered the suspension of five UDeCOTT executives was a case of wrong time, wrong forum.
What was wrong under the PNM cannot be right under the People's Partnership. As it unearths evidence of wrongdoing under the PNM, the new Government must take action, not just talk.
I am among many independent-minded citizens who were happy to hear Finance Minister Winston Dookeran say this Government will not pursue the establishment of an International Finance Centre. Warner's statement that the rapid rail project will be "put on ice" was also welcome news. Jack should now tell us how much money Colm Imbert wasted chasing that crooked shadow. And the Works Minister's initiative on banning the use of cellphones while driving was even better news.
In some ways, the new Government has faltered. In others, it has brought hope of good governance, which is what citizens are crying out for. Stick with the positives and stay together—that should be the People's Partnership's mantra. And never dismiss your critics as enemies of the party and the State. That is being Stalinist. Ask Speaker Wade Mark.