By Derren Joseph
June 24, 2010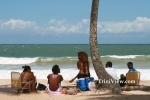 Today I continue from last week's exploration of tourism as a key component in our diversification thrust. There are three points to be made – there is a nexus between tourism and culture, domestic tourism is critical and greater decentralization which empowers communities to develop and implement local development plans are necessary.

From a tourism point of view, many of us see Trinidad's most unique product offering as its culture (Tobago is a separate proposition). In that way, there is perhaps great potential synergy to be realized in strengthening the relationship between our Culture and Tourism Ministries. So it is within that context that the UK approach merits some examination. In the UK, there is a Department for Culture, Media and Sport (DCMS) which is led by Minister Jeremy Hunt whose full title is the Secretary of State for Culture, Olympics, Media and Sport. Reporting into him are 3 other Ministers – Tourism and Heritage Minister John Penrose, Sports and Olympics Minister Hugh Robertson and Culture, Communications and Creative Industries Minister Ed Vaizey. A very interesting structure indeed.
The previous UK Tourism Minister famously claimed Britain's hotels were overpriced, were of "worrying quality" and that she preferred to holiday in Italy than the UK. The new Tourism Minister under the coalition government however, is the MP for a region that depends heavily on tourism – particularly domestic tourism.
In a recent speech, available on the DCMS website, Minister Jeremy Hunt said "If my first priority today is about getting visitors into the UK, the second is about getting British holiday makers to stay in the UK." The Minister went on to say that "I want to enlist your help in telling me and John Penrose what needs to be done to reinvigorate our domestic tourism industry." Like in the UK, our new Tourism Ministers are MPs for areas which are dependent on both domestic and overseas tourism. Good move.
Many see Domestic Tourism as both an end and a means to an end. On its own it contributes to GDP and creates jobs which is what every government wants. But at the same time, as locals patronize a site or attraction, it incentivizes those who control this "product" to invest and by so doing, make it more attractive to both domestic and overseas visitors.
I was chatting recently with one of the many local tourism stakeholders. His point was that tourism at the community level would benefit from better cooperation between the central government and local government bodies. He went on to advocate greater autonomy for local government bodies in the sphere of tourism and that tourism should be framed within holistic local/regional development plans. Of course, I agreed.
It is noteworthy that the Manifesto of the People's Partnership speaks to the "Adoption of a much more decentralised model for regional development planning" on page 16. I would be very interested in following any consultations on decentralization (or even devolution?) when they begin.
Going back to the UK, local government authorities enjoy much greater autonomy than ours and very importantly, enjoy the ability to collect taxes for their own purposes. Under our last administration, some argued against the Property Tax on the basis that funds collected went straight to the central government which suggested a focus on centralization rather than decentralization. While doing an MPhil in Economics at the University of Aberdeen, I encountered a fundamental principle of European Union law called subsidiarity. This principle has both legal and political dimensions and is extensively explained and debated online. One facet of this principle however, is that decisions should be taken as closely as possible to the citizen. So it goes beyond merely advocating decentralization, it seeks to empower communities as much as possible.
Subsidiarity was established in the 1992 Treaty of Maastricht, although it was already a key element of the 1985 European Charter of Local Self-Government which advocates decentralization.
From a Community Tourism standpoint, a great local example for me would be the communities involved in the Turtle Village Trust. My wife and I took our kids last year and it was an indescribable experience. Extremely well organized and it is an activity that I would highly recommend.
I wanted to go again this coming weekend, but I am committed to supporting my alma mater, St Mary's College, which is hosting its annual Dining With The Saints this Saturday 26th June at the College. It is an important fund raiser for the school. As usual, there will be over 100 cooks and exquisite desserts.