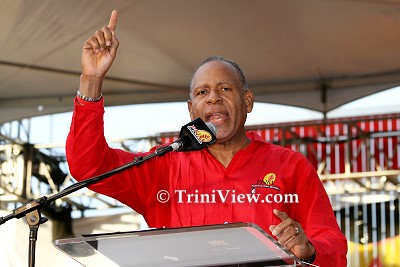 Prime Minister Patrick Manning
Woodford Square for PM swearing in…
PNM leader Patrick Manning will this afternoon take the oath of office as Prime Minister for another term, standing in the unprecedented setting of Woodford Square, Port-of-Spain–the traditional "stomping ground" of his People's National Movement party…
PNM: 299,813 UNC-A & COP: 342,466
Preliminary figures from the Elections and Boundaries Commission show that 653,882 electors cast their votes during Monday's General Elections from the 990,352 eligible to vote.
Out of the 653,882 electors 651,576 votes were valid and 2,306 were rejected.
The 2007 electorate increased by 115,092 from the 2002 electorate of 875,260. As for the number of votes cast the figure increased by 44,311 from the 2002 amount of 609, 571.
EBC: Lower turnout than 2002 election
The People's National Movement (PNM), despite winning the election and gaining six more seats, has lost some of its support and has not grown in popularity in the past five years.
Figures from the Elections and Boundaries Commission (EBC) for Monday's polls show that the PNM got 299,813 votes, 8,949 fewer than in the 2002 general election.
Overall, the PNM also lost more than five percentage points of the popular vote on Monday as compared to 2002.

St Augustine split over result
Residents of the St Augustine constituency have mixed feelings about the United National Congress Alliance (UNC-A) candidate Vasant Bharath's election victory and Congress of the People (COP) political leader Winston Dookeran's defeat…
Bas dreads returning to Parliament
UNC political leader Basdeo Panday is not looking forward to returning to the Opposition benches of Parliament.
Yetming: We have no regrets
Campaign manager of the Congress of the People Gerald Yetming says the one-year-old party is here to say…
Panday tipped for Opposition Leader
trinidadexpress.com
Panday tipped for Opposition Leader
guardian.co.tt
Imbert on PNM's 26 seats: More leeway for Govt
WHile the PNM has failed to get the three-fourths constitutional majority that will allow for changing of the presidency, the party has a three-fifths majority that will allow greater leeway in passing other types of legislations, says PNM's Colm Imbert…
MPATT wants 'capable' Health Minister
UWI lecturer advises Dookeran: Bow out gracefully
Economist Dr Dhanayshar Mahabir, lecturer at the University of the West Indies, has advised the Congress of the People (COP) to fold now and quickly…
Warner to settle for $1 salary as MP
Jack Warner will support Basdeo Panday for the Opposition Leader's position in the new Parliament, as a replacement for Kamla Persad-Bissessar.
'COP may not survive'
The Congress of the People (COP) cannot survive without having seats in parliament, political analyst Winford James has said.
Losing PNM candidates to be honorary MPs
Sir Richard: House padding against PNM will be probed
'Politicians like to call God's name'
Prime Minister Patrick Manning's statement of vox populi vox dei, or "the voice of the people is the voice of God", was repeated once again after the People's National Movement (PNM) victory in Monday's general election, and this, according to clinical psychologist Dr Krishna Maharaj, was an attempt to attribute legitimacy of his rule to divine ordination.
Manning takes oath in People's Square
Bas – Opposition Leader Ramesh – Opposition
EBC: 56 percent voter turnout
The Elections and Boundaries Commission (EBC ) said last night that preliminary results indicate the voter turnout was lower than 2002's General Election.
(2002 and 2007 Election Results)
EBC brings in preliminary tally
NACTA pollster demands apology
Vishnu Bisram, the man behind the NACTA poll which has accurately predicted the outcome of General Elections since 1995, yesterday called for an apology from those who had attacked his integrity as a pollster during this year's elections race.