October 15, 2009
www.trinidadandtobagonews.com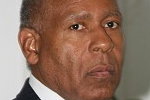 Complainant against PM in wrong courtroom
A PRIVATE criminal charge against Prime Minister Patrick Manning was thrown out by Chief Magistrate Sherman McNicolls yesterday, because the woman who filed the charge was absent from the courtroom.
Manning, who appeared through his attorney Michael Quamina, later waved to reporters as his convoy stopped for a moment outside the St Vincent Street, Port of Spain courthouse, moments after the dismissal.

Natasha Cumberbatch had claimed that Manning used annoying language with intent to provoke her to breach the peace on May 21 in Port of Spain.
Full Article : trinidadexpress.com
…PM's case thrown out
A scheduling mix-up at the Port-of-Spain Magistrates' Court resulted in the dismissal of a private criminal complaint against Prime Minister Patrick Manning by 36-year-old Natasha Cumberbatch, yesterday.
She has until November 21, six months from the date of the alleged offence, to have the charges relaid before they become statute-barred. A source at the court confirmed that fresh private charges were laid against Manning and Vasqueo, but did not wish to divulge the new court date.
Woman re-files criminal charge against PM
PM expected in court today – October 14, 2009
There is expected to be a heightened security presence in and around the Port-of-Spain Magistrates' Court today, as Prime Minister Patrick Manning is expected to appear in court to answer a private complaint brought against him.
Trinidad and Tobago News Blog – URL for this article:
www.trinidadandtobagonews.com/blog/?p=1751