By Leiselle Maraj and Cecily Asson Thursday,
October 15 2009
www.trinidadandtobagonews.com/blog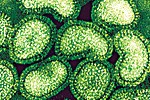 Influenza A/H1N1, or swine flu, has claimed its first victims in Trinidad and Tobago.
Health Minister Jerry Narace yesterday confirmed two men have died from the virus at the San Fernando General Hospital on Tuesday night.

"It is indeed difficult and sad for any Minister of Health to report fatalities to the nation. And although on a scientific level we expected this, on the human level, it remains disheartening and frustrating to lose lives to this new virus," Narace said at a press conference yesterday at the ministry's head office, Park Street, Port-of-Spain.
Full Article : newsday.co.tt
Related news:
Two Die – No reason to panic: Narace
TWO people have died from the influenza A/H1N1 virus, while another death is still being investigated, Minister of Health Jerry Narace said yesterday.
…Sando Hospital under quarantine
There is a quarantine in place at the Intensive Care Unit of the San Fernando General Hospital.
4 more deaths under probe
Four more suspected H1N1 deaths are being investigated by the Caribbean Epidemiology Centre (CAREC).
Flu panics parents
The confirmation of a case of the H1N1 Influenza A virus at the Exchange Presbyterian School in Couva yesterday panicked parents, who rushed to the school to take their children away.
Trinidad and Tobago News Blog's URL for this article:
www.trinidadandtobagonews.com/blog/?p=1749