TrinidadAndTobagoNews.com Reporters
June 17, 2009 – Updated: 12:15 PM
www.trinidadandtobagonews.com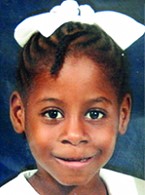 Ten-year-old Tecia Henry, who was missing for four days, has been found dead and buried in a shallow grave beneath a house in Plaisance Terrace, Laventille. The body was discovered by a C.E.P.E.P. crew around 8:30 this morning.
The partially decomposed body was found semi-nude and it is suspected that strangulation had a part to play in her death.
A short while after the body's discovery, residents of the community gathered and some attempted to take their anger out on a community leader who they felt should have known something about the disappearance and murder of the child. Police fired shots in the air to disperse the crowd.

Up to noon, the District Medical Officer and a forensic team was at the scene to remove the body and to further their investigation to determine the actual cause and time of her death.
Heavily armed police are currently in the area and four men have been detained in connection with the young girl's death.
Tecia Henry, who lived on Essex Street John-John with her mother, Diane Henry and attended the St. Rose's Girls' primary school, had been missing since Saturday. She was sent to a nearby parlour for a few items but never returned home. The owner of the shop said that he did see Tecia but told her to come back in a few minutes when the shop was open. The last that was seen of the young Henry was by residents who observed her walking in the direction of her home.
After reports of the missing Tecia was made to the police and there was not an immediate response to look for the child, residents of the community engaged in protest as they did not believe the police was treating the matter with urgency. Following days of heated protests, National Security Minister Martin Joseph and acting Police Commissioner James Philbert visited Tecia's mother, Diane, on Monday evening to assure her that they were utilizing all resources available to them in their effort to locate Tecia. Crime Stoppers also issued a $10,000 reward for information leading to the whereabouts of Tecia.
Unfortunately, neither protest nor the efforts of the police were able to save the life of Tecia.
Related News: June 18, 2009
'Why kill my child'
Gunshots rang out in Laventille when news broke that the body of little Tecia Henry had been found murdered beneath a neighbour's house yesterday.
Tecia's tragic end
Bullets fly, tempers flare as body of missing schoolgirl found in Laventille
Please, stop the war!
Loved by the John John community, Tecia Henry, a Standard Four student of the St Rose's Girls' Primary School in Port-of-Spain, was looking forward to her 11th birthday party next Thursday.
Martin Joseph shaken: 'I'm a parent too'
Girl's murder saddens Joseph
NATIONAL SECURITY Minister Martin Joseph yesterday said he was deeply saddened by the brutal murder of ten-year-old Tecia Henry.
Riot in John John as Tecia's body found
Angry women 'attack' police; Philbert sets up post
The women of Laventille vented their rage over the murder of Tecia Henry, ten, fearlessly in challenging the police who tried to calm them down.
Govt looks for home for Tecia's family
…She was kind, loving, says teacher
78 children still missing in T&T
Panday: Criminals feel they can get away with anything here
Trinidad and Tobago News Blog – URL for this article:
www.trinidadandtobagonews.com/blog/?p=1238