TrinidadAndTobagoNews.com Reporters
June 19, 2009
www.trinidadandtobagonews.com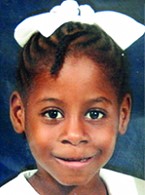 An autopsy revealed that ten-year-old Tecia Henry was killed by manual strangulation. Sources at the Forensic Science Centre said that further tests would have to be performed to determine if she was also raped.
The autopsy was witnessed by Tecia's grandmother, Patricia James. Speaking with the media afterwards, Ms. James rejected reports that Tecia was killed due to family members' alleged criminal activities. She said that whether or not there was criminal activities in the family, no one had the right to do what they did to her grandchild and that God, in his own way, would deal with the person who committed this murder.

During a statement to the media on Thursday, 18 June, Twiggy, Tecia's aunt, expressed that she was upset with the media for disclosing that Tecia's mother had drug related court matters and added that people are against Black women in the ghetto who are only trying to uplift themselves. She also said the forensic report did not state that Tecia was raped but she believes that it was jealousy as the motive behind the killing.
In related matters, the home of one of the suspects who had been held by police for questioning was completely destroyed by suspected arson this morning; the fire also seriously damaged two other homes. This act is believed to be a reprisal for Tecia's killing and police have admonished residents to refrain from any further unlawful actions.
The police are still searching for the killer who has now been labeled the 'John-John strangler'.
Related News:
Ten-year-old Tecia Henry found dead
Tecia Strangled
Little Tecia Henry, ten, was strangled on the very day she went missing.
…Autopsy reveals how 10-year-old Tecia died
Suspect's home torched: Murder of 10-year-old girl
…Fire destroys murder suspect's house
Twenty four hours after the body of ten-year-old Tecia Henry was discovered a stone's throw away from her home at Essex Road, Cook Street, Laventille, fire destroyed two houses, one of which belonged to a suspect in her murder.
Emergency demands emergency response
…'Desist from street justice'
Do not turn the death of 10-year-old Tecia Henry into a reason to take the law into your own hands.
Lawless TT
The kidnapping and murder of ten-year-old Laventille schoolgirl, Tecia Henry, and the firing of guns by several residents, in her area as a warning of reprisal for her death put the spotlight on the more troubling aspect of day to day life in Laventille.
Still no sign of Shakel Woods: mom pleads for help
The family of missing six-year-old, Shakel Woods, on Wednesday relived the horror of him disappearing without a trace…
Trinidad and Tobago News Blog – URL for this article:
www.trinidadandtobagonews.com/blog/?p=1260