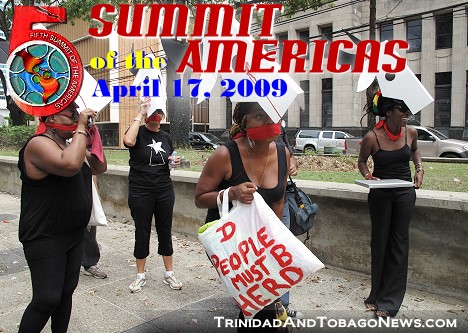 The Fifth Summit of the Americas in pictures
Obama, Chavez arrive today
After months of preparation, the Fifth Summit of the Americas gets going this evening at the Hyatt Regency Hotel in Port-of-Spain.
CHAVEZ WARNS OBAMA
Don't try to set me up at summit
Venezuelan President Hugo Chavez ramped up his verbal artillery yesterday saying US President Barack Obama should not follow the example of Spain's King Juan Carlos who told him to shut up during a 2007 summit…

…Rejects pending Summit of the Americas declaration
Venezuela to veto summit declaration
Why mistreat Cuba?
EVEN BEFORE setting foot in Port-of-Spain for the Fifth Summit of the Americas, Venezuela's President Hugo Chavez yesterday said he will vote against the final declaration of the summit as a gesture against the United States for its failure to lift sanctions against Cuba.
Carrington declines comment on Chavez
Obama looks for Cuban response to recent steps
US Congressman: Obama looking to address poverty
Secret Service to greet Obama
AMERICAN Secret Service agents will greet US President Barack Obama when he touches down at 4pm on Air Force One at Piarco International Airport in time for the opening of the Fifth Summit of the Americas.
Morales escapes plot to kill him
IF HE ARRIVES today as expected to attend the Fifth Summit of the Americas, Bolivia's President Evo Morales would have survived not only a "hunger strike" but also an alleged plot against his life.
Entry denied
Immigration officers denied entry to a professional protestor and placed him on a flight back to Puerto Rico an hour after he arrived in Trinidad on Wednesday night. Another professional protestor reported to be from North America was also barred from entering the country last week.
Welcome to TT
From today till Sunday, the eyes of the world will be on the Fifth Summit of the Americas. And, since this major international meeting is being hosted by Trinidad and Tobago, the world will be seeing our country, too. But it is useful to keep in mind the distinction between event and venue.
Caricom leaders are here
PRIME MINISTER Patrick Manning yesterday held informal talks with his Caricom colleagues as they arrived at the Hyatt Regency Hotel in Port-of-Spain before today's opening of the Fifth Summit of the Americas.
Truck runs into utility pole: disrupts local cable channels
Flow's summit channel off air
A container passing along the Eastern Main Road, yesterday pulled down wires which caused a disruption in fibre optic service feeding channel 97, the station designated to broadcast the Fifth Summit of The Americas.
Weekend 'curfew' for Piarco, Oropune villagers
Jack gets invitation, but declines to attend
Browne: Summit 'a little bit' over budget
Fitun calls off march
Working class protesters have backed down and have aborted a "social justice" march in Port-of-Spain during the Fifth Summit of the Americas. But instead of marching, the trade union groups and workers will instead gather at the St Augustine campus of the University of the West Indies for a mass rally in on Saturday.
Civil Society lobbies for voice in dire economic times
WITH the global credit crunch crippling countries around the world, there has been a drastic decline in the level of funding to non-Governmental Organisations globally.