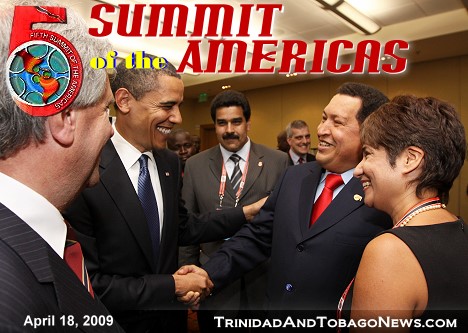 The Fifth Summit of the Americas in pictures
Chavez flies in over the Gulf
Venezuelan President Hugo Chavez thought he had escaped the glare of the media when he quietly flew in on his military jet over the Gulf of Paria from Sucre, Cumana, to Trinidad and landed at the helipad in Chaguaramas shortly after 4 pm yesterday.
Smiling Obama lands on T&T soil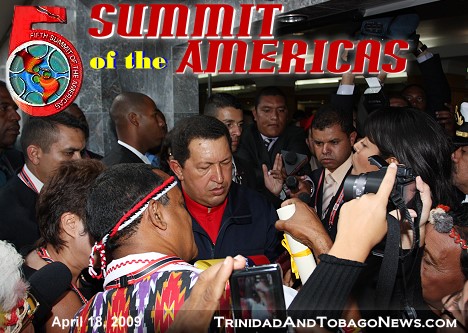 Chavez steals the spotlight
"Hail, Presidente!" The cry emitted from the lips of the Venezuelan contingent of media personnel who had gathered at the entrance to the Hyatt Regency Hotel on Wrightson Road, Port-of-Spain, yesterday.
LET'S BE FRIENDS
Chavez tells Obama during historic handshake:

Waiting in vain for Obama
Disappointment
Obama slips through spectators fingers
Scores of journalists and other accredited people were disappointed yesterday after having waited for hours to catch a glimpse of US President Barack Obama upon his arrival at the Hyatt Regency hotel in Port-of-Spain for the start of the Summit of Americas. However, he was sneaked through a back entrance of the hotel.
New beginning for Cuba says Obama
Obama: Time for a new start
UNITED States President Barack Obama said he wants a new beginning in US-Cuba relations, but is also serious in wanting to address human rights issues in Cuba…
Barack to invest US$30m to fight regional crime
We'll mediate
CARICOM leaders were last night due to act as virtual mediators between US President Barack Obama and Venzuelan President Hugo Chavez on the issue of Cuba, after Caricom leaders indicated they will not join Chavez in vetoing the Declaration of Port-of-Spain.
Patrick Manning last night set the tone
Prime Minister Patrick Manning last night set the tone for the Fifth Summit of the Americas, when he called on leaders to be politically mature and not allow any one subject to cause discord, as he made reference to the contentious issue of the US trade embargo against Cuba.
Manning: Let's be friends
PRIME Minister Patrick Manning yesterday urged leaders at the Fifth Summit of the Americas not to become divisive over any one issue during their talks, a likely reference to the Cuban issue, as he addressed the opening ceremony of the meeting at the Hyatt Regency Hotel, Port-of- Spain last evening.
'Summit rubbish' creates stink in Sea Lots
Summit protestor spends night in jail
ENVIRONMENTALIST Michael Parris spent Thursday night behind bars in the Couva Police Station after he was arrested by police for erecting placards on TTEC poles to protest against the Summit of the Americas currently taking place in Port-of-Spain.
Man gets $.1m bail for placard protest
A free world
The final statement from the Summit of the Americas is still to be drawn up, but we doubt that it will include measures to end capitalism and the "neo-liberal system".
Giving youth a new lease on life
Doubles, dhalpuri for foreign media
Views from the summit
What makes the Fifth Summit of the Americas so special for our country is that here for the first time in our short history we will host a forum of the heads of governments of 34 elected democracies in the western hemisphere…