Sep 01, 2017: Anand's cases adjourned to next year
Anand goes to court Friday, charged with two offences
Former Attorney General, Anand Ramlogan, was today charged with misbehaviour in public office and obstruction of justice arising from allegations contained in a report made by David West to the Commissioner of Police, on January 28th, 2015.
~~~~~~~~~~~~~~~~
After 12-hour interrogation of ex-AG Ramlogan: Cops go to DPP today
By Gail Alexander
August 30, 2017 – guardian.co.tt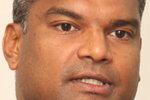 Former attorney general Anand Ramlogan was under arrest last night awaiting a decision on his fate this morning.
After 12 hours of questioning following his dawn arrest by police yesterday, Ramlogan remained in custody at Police Headquarters, Port-of-Spain. This in connection with the witness-tampering allegations made against him in 2015 by Police Complaints Authority chairman David West —a probe of which now appears to have reached a head.

Last night, after prolonged questioning and copious notes supplied by Ramlogan, one of his attorneys, Gerald Ramdeen, told the T&T Guardian police were going to seek instructions from the Director of Public Prosecutions. This would likely be on whether to charge Ramlogan today.
Another of his attorneys, Pamela Elder, SC, said last night that the interview process was a long, exhaustive one.
"It's quite likely the situation will go into (today). I have no problem with the way the matter's proceeding. It's being done fairly," Elder said.
The shock arrest of the former People's Partnership AG began a day of drama for Ramlogan, his family and colleagues.
It started around 5.30 am when a large party of Fraud Squad police led by deputy Commissioner of Police Harold Phillip, in a detail of almost ten vehicles, swooped down on Ramlogan's Palmiste, San Fernando home.
Full Article : guardian.co.tt
Flashback: Should AG Ramlogan cease to hold office? Daly, Yes