Martin Daly's statement: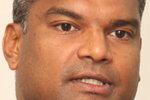 "Should the Attorney General cease to hold office in light of the so-called witness-tampering allega­tions?
I have received a significant number of requests to give my answer to the question at caption. I have no doubt that the answer is yes, despite the fact that the matter is only at the investigation stage and despite the presumption of innocence.

Unfortunately, the Attorney General has put himself in an impossible position because for the majority of his tenure in office, he has been very aggressive politically. In my view, a high level of political aggression is not compatible with the Office of Attorney General, which is the guardian of the public interest in many matters and therefore requires a measure of detachment from the extremes of partisan party politics.
The so-called witness-tampering allegations represent the culmination of a number of controversial events in which the Attorney General has been at the centre, particularly, the Section 34 controversy.
His recent crowing about a default judgment in a defamation case is an example of the blurring of the lines between being the guardian of the public interest and his manner of pursuing a campaign against the Leader of the Opposition, however legitimate such a campaign may be in the Attorney General's eyes.
This high volume of partisan political controversy has had the effect of undermining the confidence which citizens are entitled to have that the Office of Attorney General is the guardian of the public interest, unduly influenced by political affiliation and political objectives. It is for this reason that it is my opinion that the Attorney General can no longer remain in office."