'A CONSPIRACY'
By Andre Bagoo
January 30, 2015 – newsday.co.tt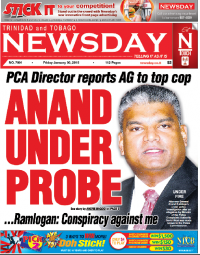 ACTING Commissioner of Police Stephen Williams yesterday announced that he had ordered a police probe into an allegation of an attempt to pervert the course of justice made against Attorney General Anand Ramlogan by Director of the Police Complaints Authority David West.
In a media release, the police public affairs unit stated, "The Commissioner of Police (Ag), Mr Stephen Williams, wishes to advise that today, Thursday 29th January, 2015, he was visited by Mr David West at Police Administration Building, Port-of-Spain, and presented with a signed statement, in which Mr West made an allegation of 'an attempt to pervert the course of justice', against Senator the Honourable, Anand Ramlogan, Attorney General of the Republic of Trinidad and Tobago."

The statement continued, "As a consequence, the Commissioner of Police has ordered an investigation into the matter." The investigation will be led by Deputy Commissioner of Police – Operations (Ag), Harold Phillip.
The statement did not disclose any details of the allegations contained in the West statement.
In an immediate reaction, Ramlogan said he welcomed the probe, stated there was political conspiracy involved and called for caution.
"I welcome the announcement by the Commissioner of Police of an investigation into the allegations made by Mr David West," Ramlogan said. "I trust that the investigation would be handled professionally, thoroughly and expeditiously. I will co-operate fully with this investigation and look forward to my vindication."
The Attorney General further stated, "All parties must now allow due process to take its course. These latest spurious allegations are but part of a wider political conspiracy that is designed to damage the Government as we draw closer to elections."
Ramlogan has denied the allegations contained in a Sunday Express article that he asked West to withdraw his witness statement in a defamation lawsuit Ramlogan has against Opposition Leader Dr Keith Rowley for comments about Section 34 and extradition proceedings involving businessmen Ishwar Galbaransingh and Steve Ferguson. The article alleged Ramlogan promised West he would be appointed PCA director if he withdrew from the lawsuit.
In a statement on Sunday, the Attorney General said, "Whilst I was and remain reluctant to comment on a matter in which I am the claimant that is awaiting trial before the High Court, I wish to categorically reject and deny the absurd allegation that I asked the PCA chairman David West to withdraw his witness statement during a telephone conversation which allegedly took place on October 31, 2014, or at any time thereafter." Ramlogan further stated, "I was only aware that Mr West had filed a witness statement in this case when it was served on my attorneys on December 22, 2014."
Ramlogan also stated it was impossible for him to have made such a representation as it is for the President to appoint the PCA director, which is an independent post.
Section 6 of the PCA Act states, "6. (1) The Authority shall comprise a Director and a Deputy Director to be appointed by the President on the joint advice of the Prime Minister and the Leader of the Opposition."
PCA director: A different story
While it was surmised that the statement submitted by West to the police related to the newspaper report, his submission to the police was not released.
In a release, West stated his complaint related to the newspaper article but did not go into specifics of his statement to the police.
The former head of the Central Authority said, "I am compelled to say publicly, without more, that my recollection of what transpired is diametrically opposed to the Honourable Attorney General's denial that he ever approached me."
"Accordingly, I this morning made a report to the Ag Commissioner of Police on the matter of the allegations against the Honourable Attorney General reported upon," West said. "I trust that the Ag Commissioner will take swift action on my report as he considers appropriate or as he may be advised and that due process will be ensured and the integrity of any investigation will be preserved." West did not specify in his statement the nature of the reported approach. Efforts to contact West were unsuccessful.
This is not the first time West and Ramlogan have sparred publicly. In 2011, both engaged in a war of words when Ramlogan criticised West's appointment as "deputy director" of the Financial Intelligence Unit under the PNM, saying the post did not exist. West also criticised Ramlogan's handling of an extradition case involving Doreen Alexander Durity in 2013.
Rumours circulated yesterday that Ramlogan may have resigned or had been called to a meeting to explain the reports by Acting Prime Minister Errol Mc Leod.
The Cabinet – which at a minimum comprises the Prime Minister and Attorney General – met yesterday, the regular day of the week when its meetings are held. There was no Cabinet media briefing yesterday.
There were further rumours that the Attorney General was due to hold a press conference at Cabildo Chambers, St Vincent Street, Port-of-Spain yesterday afternoon though no official notification of this was sent. Reporters lined up outside Cabildo as the sun set.
Ramlogan, Mc Leod and Prime Minister Kamla Persad-Bissessar did not immediately respond to messages on the matter.
The Prime Minister returned to Trinidad at about 6.41 pm yesterday after official visits to Costa Rica and Washington DC last night. She was met by members of her Cabinet at the VIP Lounge of Piarco International Airport, but there was no media coverage.
COP wants swift probe
Congress of the People (COP) political leader Prakash Ramadhar yesterday called for a swift investigation into allegations made against Ramlogan saying such was essential to vindicate the rights of all.
Ramadhar said, "Such serious allegations must be investigated in a timely manner once there is substantial information to require it. This has been the COP's position since May 2010 when we came into Government. We have applied it to all public officials, including those from our own party against whom serious allegations have been made." The Legal Affairs Minister said a prompt investigation was needed to vindicate the, "rights of all involved".
"What we need are the facts, the truth of the situation and if there is sufficient evidence for further action against anyone, that must also be proceeded with urgently. The seriousness of this matter demands the earliest resolution," Ramadhar said.
This week, Ramadhar, as Legal Affairs Minister, attempted to get West to meet with him on the allegations but West asserted the independence of the PCA which he said did not report to a line minister, and felt it would be inappropriate to meet with Ramadhar.
~~~~~~~~~~~
AG UNDER POLICE PROBE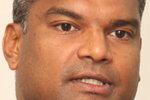 He is the first Attorney General to face a criminal investigation.
And as Prime Minister Kamla Persad-Bissessar flew home last night, one thing must have been on her mind—can Ramlogan, who has survived many controversies and calls for his head, continue to properly discharge the functions of his office with the cloud of a criminal probe hanging over him.