By Raffique Shah
November 23, 2016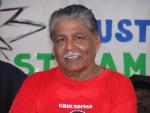 The campaign for next Monday's local government elections has degenerated into a dogfight that is dominated by fluff, innuendoes, outright lies and a teaspoon of violence which the main combatants, PNM leader Dr Keith Rowley and UNC leader Kamla Persad-Bissessar, hope will generate a large voter turnout and salvage their respective political careers.

When the issues proffered to the electorate are reduced to inanities like rum and roti, inside and outside children and padded murder numbers, you know that the politicians have nothing of substance to offer the population, that they are desperate to survive another election and remain at the helm of their respective parties.
For Kamla more than Keith, another loss will more than likely trigger an assault on her leadership of the UNC. In the case of the Prime Minister, while neither his hold on power nor leadership of the PNM will be under immediate threat, significant losses in districts he had won in 2013 would signal an erosion of confidence in his 14-month stewardship.
Starting with an outlook on the latter, Rowley has had a rough ride since he came to power in September 2015. The population is aware of the main reasons the economy is in a mess—excessive spending by the previous government, a collapse of oil and energy products' prices, and a huge drop in the production of oil and natural gas.
As a consequence, foreign exchange earnings have almost evaporated, hence the shortage of US dollars. And the country's GDP, which has declined over the past six years (by approximately 1.5 per cent per annum), is likely to shrink by 6.0 per cent in calendar 2016. Bottom line is much less money available to the Government than at any time in the past decade, hence a struggle to make fiscal ends meet.
But the populace has grown so accustomed to living high on the State-subsidised-hog, it expects government to keep giving, a "gimme gimme" syndrome that was nurtured by the PNM many moons ago and taken to obscene levels by the UNC and its allies more recently.
Faced with this grim economic scenario, Rowley's woes were compounded when criminals decided to take their deadly game to another level. Such is their contempt for the Police Service and the archaic, sluggish judicial system, they decided to entertain the population with real-time, CCTV-captured murders.
Hell, even the police are starring in the digitally-recorded, YouTube-uploaded crime spree, allegedly robbing a Chinese businessman of $400,000 in cash. Incidentally, has anyone asked Chin how he got that sizeable sum, and why he chose to keep it under a mattress rather than in a bank?
The economy, crime, and a slew of accumulated inefficiencies and deficiencies in government services—who to blame? Government, of course. Fifty-four years as an independent nation and we have not learned that good governance can be achieved only when all stakeholders share the responsibilities required to attain that goal, or share the blame when we fail.
PM Rowley speaks of reform of the local government system, but he does not elaborate. Will the corporations be empowered to collect and keep proceeds from the property tax within their boundaries, and apply the money to garbage collection and general sanitation? I think they should. They are closer to the ground, in a manner of speaking, and the more they collect, the bigger their coffers.
The PM also mentions the corporations having bigger police units under their control—something that could backfire given the propensity of police officers to engage in criminal activities.
Rowley and the PNM have enough material to share with the people rather than jump into the gutter to mud-wrestle with the UNC under-caste. We don't want to hear how much Kamla spent on roti or champagne: if you must, let us know when members of the last administration are hauled before the courts charged with corruption or criminal wastage of public funds.
The PNM leader must also be mindful that while losing some ground gained in the 2013 elections is not unexpected, losing control of corporations such as Tunapuna and Sangre Grande would harm his image.
Meanwhile, as Kamla focuses on Keith's loins, on how many children he has fathered "outside", she is well advised to cast a cokey-eye on the over-ambitious in her own ranks. If she is to retain the confidence of her supporters, she cannot afford to continue with the losing streak that began in the 2013 local elections.
Back then, she ceded five corporations she had won in 2010 to the PNM: Diego Martin, Tunapuna, Arima, Sangre Grande and San Fernando.
I do not see the UNC losing further ground—say Siparia or Mayaro. But with Kamla, one can never tell. In the aftermath of the 2015 debacle, she overcame challenges for leadership of the party. But a poor performance next Monday could well loosen that iron grip and render her a liability to the opposition.
Already, the corbeaux are circling…