By Stephen Kangal
November 25, 2016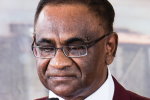 Both Public Service Reform as well as Local Government Reform has been the political football of PNM governments past and present with nothing of substance to show during years of issuing all colours of Paper and holding consultations galore the last being the year-long political façade conducted by former Local Government Minister Franklin Khan.

It has been decades of several tiers of deceit and procrastination geared to generate time-buying expectations in the gullible electorate.
Minister Khan promised that LG reform based on substantial devolution of authority to the Regional Corporations using the failed and discredited THA Model would be achieved prior to the holding of the current LG elections to be held on Nov 28. He even threatened to disband the Ministry of Local Government as redundant and render himself unemployed. Well that and God's face we never did see with him now sitting comfortably in the energy tower.
But the LG reform mantle is now passed on to former San'do Mayor Kazim Hosein who will now re-invent the LG Reform wheel all over Trinidad again.
Not to be outdone Prime Minister Rowley has made LG Reform the corner stone of the PNM's current Local Government campaign. It is the magic bullet- the panacea to cure all the ills of the Regional Corporations even though we all know that many rural-based ones will be starved of the requisite funding in these guava season days and nothing will happen or change.
I am also reminded of the mantra chanted by the late PM Manning to the effect: Central Government would determine policies and Local Government will implement those policies. But while doing so repeatedly, he was presiding over the building of the $7 billion Government Campus and the Waterfront Project at which all Government offices were to be centrally located in Port of Spain including the Ministries of Works and Education. Manning had nothing to show.
Even after one year the Agriculture Ministry cannot make the much touted move to a new building in Chaguanas sitting idle and deteriorating to spite the UNC.
The proposals in the last THA Reform Paper engineered to give Tobago increasing and greater autonomy including law-making capacity are also in cold-storage awaiting resuscitation.
The new Licensing Office in Caroni built with $250m of our money is slowly but pathetically disintegrating. The PNM took more than a year just to remove the new Motor Vehicle Authority sign placed on the building in 2015.