By Dr. Selwyn R. Cudjoe
November 20, 2016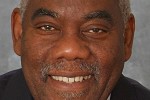 Samoondarie Doon, perhaps the last survivor of Indian indentureship, died on November 15. This final part of Sirdar Choonee's story may be a fitting reminder of her people's tribulations. The italics in this essay appeared in the original transcript.

"I have something else to mention respecting two other Coolies on the Carolina estate. After the Coolies had agreed…to remain on the Carolina Estate for one year on the understanding that we were to receive forty cents per day without allowances Mr. Anderson came on the estate and assembled the Coolies. [He said] he would only give the Coolies thirty cents per day without food, and that he did not care about arrangements entered into by the Coolie Magistrate [Mr. Fagan] respecting the forty cents per day—that he was master in his own place, and that if they did not like his terms they might go about their business.
He then told them to bring their cutlasses and hoes. They did not bring them voluntarily nor could they as that might be considered breaking their engagements. The Overseer went himself into our houses to search for the cutlasses and hoes and he, together with ourselves, brought and put them before Mr. Anderson. This being done, he said "Go!" and the Coolie Budel answered: "Master does not want you."
Mr. Anderson then mounted his horse and was going away without setting our wages when we said: "Don't you intend to pay what is due to us?"
"Go to your magistrate," that was his answer, and we will see about it.
"If he orders me to pay, I will but not otherwise."
At this time, the overseer was busy in throwing out all our baggage [that is, their household items] from the house which we occupied into the road. It remained in the mud and dirt and rain till we came and collect it and put it under cover in the room under the house.
We decided we would remain there as we had not broken our engagements, and should not leave the place until ordered to do so by our own magistrate.
At the end of nine days, we quitted, as Mr. Lack told us if we remained any longer he would charge us for the room at the rate of fifty cents per day for each man.
We had no money to buy food, our just dues having been withheld from us by the manager. How, therefore, could we live without eating? We, therefore went to Phoenix Park estate where Mr. Hodge agreed to engage us if we brought a letter from the Coolie Magistrate. From the day of our being turned away by Mr. Anderson from the Carolina Estate, we earned nothing.
We were obliged to leave two of our comrades, Lutchman and Gunness, behind on the Carolina estate in the room in which we were staying under the house. They were unable [to walk] from the state of their feet which were affected with bad sores brought on by the wounds from hoes, in the first instance, [which they] received while at work in the cane fields.
I believe their sores are in a very bad state from neglect. No doctor or any other person ever having come to look at them or administer any remedy. There is a bad stench from the sores. On Saturday last the 4th instant, Boodhun, a Coolie of our party went to Carolina Estate to see how Lutchman and Gunness were, and to tell them they should send for Mr. Lack. The overseer meeting Boodhun, asked him what he wanted on the estate…. Seeing Mr. Lack was in such a passion, and being afraid of him, Boodhun attempted to run away, when Mr. Lack threw a stick at him, which hit him above the ankle of the right foot, and inflicted a cut which still pains him much.
Boodhun came straight to Phoenix Park and informed me, Choonee, of what occurred and of our two comrades being still at Carolina. On receiving that intelligence, I sent two Coolies to attend the two sick ones from Carolina estates to Phoenix Park.
They were met on the road crawling on all fours and trying to move onwards in that position. Seeing this, the two Coolies I sent to inquire about them, took them on their backs, and brought them to Phoenix Park.
No doctor has ever come to see any of the Coolies on the Carolina estates. They have suffered great hardship and distress from the irregularity and dishonesty practiced in the issue of their wages and allowances, being often two months without receiving their wages and three weeks without receiving allowances….
On May 21, 1848 "An Anti-Slavery Man" complimented Major Fagan's exemplary behavior. He alleged: "No inquiry whatsoever followed the laying before Lord Harris the frightful statement of the Coolie Sirdar [Choonee] of the Carolina Estate.… [which] belonged to Mr. Allister-the now dismissed and degraded manager of the West Indian Bank."