By Raffique Shah
October 04, 2016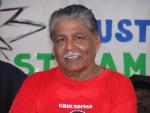 The unseemly public spat between President Anthony Carmona and Prime Minister Keith Rowley, if it gets any nastier, could bring both offices and office-holders into further disrepute, and add to the list of public offices, officials and institutions in which citizens have lost or are losing confidence.
We can take it as fact that based on the structural political divide in the country, at least half the adult population believes that Dr Rowley is wrong, that he is lying. We should not be ashamed to admit that most people judge politicians not on facts or evidence adduced, but on partisan politics, whatever the issue or whoever happens to be under scrutiny.

In this confrontation between the President and the PM, it's no different. What are the facts? Mr Carmona admitted to having asked National Security Minister Edmund Dillon to meet with him to discuss matters relating to national security. He also asked Mr Dillon to bring along his advisers.
President Carmona claims he informed Dr Rowley about the meeting on three occasions, and Dr Rowley consented. The PM denies this, saying he only knew of the meeting when Mr Dillon informed him, and he did not know what was down for discussion.
I ask: was Mr Carmona acting within his constitutional remit when he summoned such meeting? The answer is no. The President has no authority to summon or invite any minister to discuss with him the Government's policies or programmes, or, in this case, national security issues.
Some persons might argue that as Commander-in-Chief of the Defence Force, the President is empowered to summon or give orders or instructions to senior officers of the Trinidad and Tobago Defence Force. That is absolutely incorrect. The Commander-in-Chief is titular head of the nation's armed forces, not executive commander.
Indeed, and many people may not know that the President in that role may even wear a military uniform befitting his honorary rank. Thus far, no president has exercised that right and we have been spared the masquerade. Sir Solomon Hochoy, as governor-general after Independence, used to wear an elaborate outfit, complete with braids and the colonial "cork hat", at Independence Day parades. He also rode a horse as he inspected the troops.
But all of this is purely ceremonial, part of the pomp and ceremony of the military, nothing to do with command and operations.
Mr Carmona, as a former judicial officer with considerable experience, must know, or ought to have known, that by accepting the presidency, he surrendered his rights to intervene in the politics of the country the way other citizens do.
We can cuss the Prime Minister or any other minister or public official, tell them how to do their jobs and what we expect of them. He cannot. He must at all times be seen to be above the mud-wrestling in the political "gayelle".
It seems to me, though, that for all his references to "powers" during his inaugural speech, Mr Carmona does not understand the many powers he does not have, or the few he does. Either that or he does not care about constitutional limitations imposed on the presidency.
In the instant issue of the meeting he held with Mr Dillon, it matters not if Dr Rowley lied—politicians are expected to lie—Mr Carmona ought never to have asked to meet to discuss what appear to have been national security concerns. He should have discussed them with the PM at their statutory weekly meetings.
I am inclined to believe that the President has decided to take the unconventional route and deliberately overreach his authority. The last time I wrote about him was when he formally welcomed Venezuela's President Maduro and proceeded to raise with the latter, in the presence of the media, the matter of illegal guns coming from that country to ours.
That was undiplomatic in the extreme. Since then, the President has, in public, discussed matters such as trade, investment and education, all way outside his remit, with other visiting ministers and diplomats who had gone to him to present their credentials or make courtesy calls.
Last week, at an unprecedented media briefing at which he entertained no questions, he stoutly defended the $1.4 million purchase of fine wines in customised bottles that bore the presidential crest and a glaring error ("Presidential House").
Having noted all these irregularities on the part of the President, I do not think that the Government should take any measures to have him removed from office. At a time when institutions seem to be falling apart, the last thing we need is a catfight between the Government and the President.
Let President Carmona be—for as long as he is comfortable in the castle of his sins.
(Dedicated to my friend and comrade, Allan J Alexander, who passed on last Saturday. He was a class act in a society whose superstructure is riddled with crassness. Rest in peace, Bro.)