…judge says the the EBC was wrong to extend voting time
By Rickie Ramdass
Aug 19, 2016 – trinidadexpress.com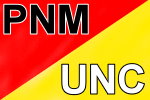 Voters display their stained fingers after casting their ballots in the September 7 2015 general election. Photo: Trevor Watson
THE election petitions filed by the United National Congress (UNC) which sought to declare the results in five constituencies null and void as a result of the general election day decision of the Elections and Boundaries Commission (EBC) to extending the voting time by one hour, has been dismissed.

The ruling came in a 53 page judgement handed down by Justice Mira Dean-Armorer in the Hall of Justice Port of Spain on Friday afternoon.
Justice Dean Armorer said: "I have, in these Petitions, strove to hold the balance to protect the will of the majority while ensuring that the patent mistakes have not reduced the election of 2015 to a mere sham. For reasons stated…it has been my view that the election of 2015 in Trinidad and Tobago were substantially in accordance with the prescribed law and it does not appear to me that the breaches affected the results. It is therefore my view and I hold that the Petition should be and is hereby dismissed".
The ruling will be appealed, said attorney and political leader of the UNC, Kamla Persad-Bissessar.
In her ruling Justice Dean Armorer said that there was nothing in law that gave the EBC the power to extending the voting hours and that it acted unlawfully.
She said that the decision of election officers to extend the voting time past 6p.m. was not lawful.
"Torrential rains and flooding on 7th September, 2015, may have impelled the EBC to issue the directive they did. Nonetheless, the uncontrollable weather conditions did not confer on the EBC the power to direct that the law be broken. The EBC, itself a creature of statute, ought at all times to abide by the clear dictates of the law and ought not to purport to dispense with those dictates even if faced with an apparently insurmountable problems. Accordingly, it is my view and I hold that the extension of the poll on the 7th September 2015 was illegal and election officers who failed to close the poll at 6p.m. acted in breach of Section 27(1) of the Election Rules".
However, the judge said that based on the overall conduct of the election, this was the only breach, and that based on the number of voters who cast their ballot between 6p.m. and 7p.m. it meant the outcome of the results would not have been different had the polls closed at 6p.m.
The judge said that the breach was not committed out of malice but to accommodate the electorate due to an "act of God (bad weather) over which the EBC had no control.
Full Article : trinidadexpress.com