By Kim Boodram
Jun 1, 2016 – trinidadexpress.com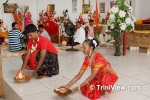 NEARLY two hundred years after they became part of the building of Trinidad and Tobago, people of East Indian descent are still considered second class citizens, the president of the local chapter of the Global Organisation of Indian People (GOPIO), Karran Nancoo, has said.

Nancoo, speaking on TV6's Morning Edition on Indian Arrival Day, which is celebrated annually in T&T in March 31, has contended that the descendants of East Indian immigrants are still not being treated as legitimate citizens of the land.
Karran said the notion that Indians are "second class" has also shown itself in the politics of generations.
"You know some people in this country believe that Indians are second class people," Nancoo said.
Indian culture is also less favoured, he claimed, pointing out that the national instrument is the steel pan but due to the lesser celebration of Indian culture and contributions, many were not aware that a second instrument, the dhalak, was also created in T&T.
"The crowbar and the horseshoe was used to play music," Nancoo said.
"It was exported to India, not imported and I think we should cherish that but because it was Indian it is not established."
As a result, Nancoo said, many younger East Indians are unaware of the impact their ethnicity has had on this nation and this underscored the importation is occasions like Indian Arrival Day, to help young people explore the achievements of their forefathers.
As for non-governmental organisations like GOPIO, Nancoo said its core functions are the promotion of Indian heritage and the fending off of discrimination.
Nancoo said organisations like his would like to see that new generations do not discard their ties to the past as they embrace the land of their birth.
"Many call us Indo-Trinidadian, I don't know what that means," Nancoo said.
"I remember years ago you put race and you put East Indian and that has changed. We are Trinidadian but when we talk about the racial aspect of it, we are Indian."
Source: www.trinidadexpress.com/20160601/news/gopio-tt-indians-second-class-citizens