Opposition Leader accused of hiring relatives at Siparia constituency office
By Ria Taitt
March 19, 2016 – trinidadexpress.com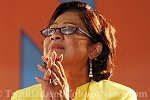 Allegations of a breach of the Parliament rules against the hiring of relatives gathered momentum yesterday with fresh claims that Opposition Leader Kamla Persad-Bissessar has broken the rules too.
Reports surfaced yesterday that Persad-Bissessar has employed two of her relatives at her Siparia constituency office for well over a decade.

With the recent dismissal of Marlene McDonald as housing minister, which was triggered by the revelations that she had ­employed her romantic partner, Michael Carew, and his brother, Lennox, in her Port of Spain South constituency office, the issue of nepotism in the hiring in constituency offices has come under the spotlight.
On Facebook and WhatsApp, messages were being posted yesterday alleging that Usha Persad and Lisa Harry, employees at the Siparia constituency office, were related to Persad-Bissessar.
Subscriber to the Trinidad Express Newspapers for access to this article via their e-paper
Query on Kamla's relatives employed at her Siparia office
March 19, 2016 – guardian.co.tt
Allegations surfaced last night that two relatives of former prime minister Kamla Persad-Bissessar are employed at her Penal constituency office.
The news came last night in a CNC3 report, two days after the firing of MP Marlene McDonald as housing minister by Prime Minister Dr Keith Rowley on Thursday.
McDonald was axed for hiring her common-law husband Michael Carew and brother-in-law Lennox Carew at her Port-of-Spain South constituency office, a move that is in breach of the parliamentary regulations.
CNC3 stated that they were reliably informed that a cousin and niece of Persad-Bissessar were employees at her office.
Full Article : guardian.co.tt
A very grey area
Newsday Editorial
March 19, 2016 – newsday.co.tt
"The latest matters which McDonald faced was a report stating she employed Carew at her constituency office in breach of a Parliament manual at a time when the ban on employing family was restricted to the employment of immediate family members.
"It has since emerged that the Parliament arrangements changed in September 2015 and the definition of people banned widened to include: "(1) spouses; (2) co-habitants; (3) children/step-children/adopted children/grandchildren; (4) parents/ step-parents/grandparents; (5) siblings; (6) nephews/nieces; (7) uncles/ aunts; and (8) cousins".
"At least three Opposition MPs have been identified so far as having once fallen afoul of this new arrangement: Siparia MP Kamla Persad-Bissessar, Princes Town MP Barry Padarath and Mayaro MP Rushton Paray. However, in the case of Persad-Bissessar and Padarath, both took action to remove the people from their payrolls once the issue was raised, effective March 1."
Full Article : newsday.co.tt