By Nalinee Seelal
March 18, 2016 – newsday.co.tt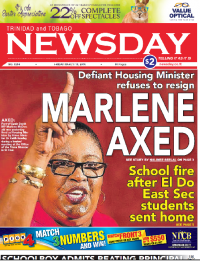 PORT-OF-SPAIN South Member of Parliament Marlene Mc- Donald was yesterday fired as Minister of Housing by Prime Minister Dr Keith Rowley during a tense meeting at 6.30 pm, at the Office of the Prime Minister in St Clair. Well-placed sources told Newsday that during the meeting, which lasted for about 30 minutes, loud voices could be heard.
Sources added that McDonald later stormed out of the meeting, telling her driver that she had just been fired before making a call on her cellular phone as she entered her vehicle which sped off.

"A report from Fixin T&T head Kirk Waithe stated he received information from Parliament which showed that Carew and a director of the Calabar Foundation were employed at McDonald's Port-of- Spain South constituency office for five years, while Carew's brother Lennox Carew still worked at the MP's office.
"McDonald's common-law husband, who worked at the office from June 1, 2010 to September 7, 2015, had earned the second highest salary of $13,400 on the Constituency payroll for the full parliamentary term while Lennox began working in the office on March 1, 2011 and has been in receipt of the highest salary of $14,000 out of 13 people working in the office.
Full Article : newsday.co.tt