By Gail Alexander
Sunday, March 20, 2016 – guardian.co.tt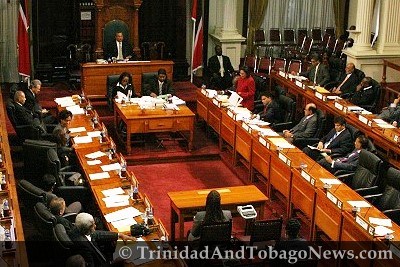 Apart from Opposition Leader Kamla Persad-Bissessar, two other Opposition UNC MPs had relatives employed at their respective constituency offices in this current parliamentary term, and a third UNC MP still has a "distant" relative employed.
They are Princes Town MP Barry Padarath, Caroni Central MP Dr Bhoe Tewarie and Mayaro MP Rushton Paray.

Last Friday ILP leader Rekha Ramjit called on Persad-Bissessar to resign since Ramjit alleged it was "public knowledge" two of Persad-Bissessar's nieces have been employed at her constituency office in Penal Junction for "well over a decade."
Ramjit said parliamentary rules on constituency staff hiring made it clear MPs aren't permitted to hire their relatives, and this includes nieces and nephews, as constituency office staff. Ramjit accused Persad-Bissessar of breaching the Integrity in Public Life law that deals with conflict of interest.
While Persad-Bissessar explained her situation at UNC's Couva Congress yesterday, Princes Town MP Padarath said last month when he received the parliament's manual on constituency office rules, he realised he'd have to act since a relative of his is employed at his constituency office.
Padarath declined to specify the relative, but said it was an immediate relative. He confirmed the person had been working at the office since he became MP. The monthly salary was $10,000.
Padarath said he was aware of the old rules, but when he got the new (2015-2020) constituency office handbook, he realised under rules for the current term, the relative couldn't continue. "The person's employment was terminated at the end of February.
"I also contacted the Clerk of the House on the matter and informed the Parliament I'll be returning the salary which was paid to the person each month, so the total I'm repaying is about $60,000,"
Mayaro MP Paray said when he was elected MP last year, several people were already working at the Mayaro constituency office from the tenure of the previous MP Winston Peters. Paray said one employee was a distant relative of his—the daughter of his grandfather's second wife.
He added, "I knew I had to be careful since when we got the manual, it stated relatives couldn't be hired. I informed the Parliament and was told that because of the distance of the relationship between the employee and myself, they didn't see it as a problem."
Paray said the person was still employed at the constituency office, but is now only part-time, working three days a week.
Tewarie, who is overseas, confirmed a relative did work in his constituency office, but is no longer there. He didn't reply to further queries.
Other UNC MPs—Roodal Moonilal, Ganga Singh, Ramona Ramdial, David Lee, Vidya Gayadeen-Gopeesingh, Christine Hosein, Dr Lackram Bodoe, and Suruj Rambachan—confirmed they didn't have relatives working at their constituency offices. MPs Fuad Khan and Tim Gopeesingh have already said they didn't have relatives employed. Among UNC MPs who served before, Moonilal, Rambachan and Ramdial said they hadn't had relatives working at offices previously.
HIRING RULES
Parliament's communication division yesterday clarified the constituency office hiring rules.
The Constituency Manual for the immediate past 10th Parliament (2010-2015) stated that MPs have the authority to employ, promote or terminate employees. Under Points to Note (Staff) it also stated MPs "should not hire members of their immediate family, (defined as spouse, children or parents) to work in their constituency office."
Rules in the Constituency Handbook for the current 11th Parliament (2015-2020) are more specific. Under "Engagement of Constituency Office Staff" it states "Restriction on Employment of Relatives."
The clause states that members are restricted from employing relatives as employees in their constituency offices. Relatives include the following individuals: (a) spouses; (b) co-habitants; (c) children/step-children/adopted children/ grandchildren; (d) parents/step-parents/grandparents; (e) siblings; (f) nephews/nieces; (g) uncles/aunts; (h) cousins.
KHAN TO KAMLA: STEP DOWN
?That's PNM chairman Franklin Khan's call to Opposition Leader Kamla Persad-Bissessar.
Speaking after yesterday's PNM general council meeting, he said in the same way Persad-Bissessar called for the firing of former minister Marlene McDonald for allegedly hiring her common-law spouse and his brother at her constituency office, Persad-Bissessar also needs to step down on the same basis.
"What is her position on her own challenges? She's also accused of breaching parliament rules. She must make a statement the same way the Prime Minister acted on Ms McDonald," Khan added.
"We understand she isn't alone, current and past ministers also breached the code. There are backdated dismissal letters about people when Parliament adjudicated on her. I expect the same action the PM enacted with Ms McDonald."
Several PNM MPs yesterday confirmed they didn't have relatives working at constituency offices including MPs Adrian Leonce, Terrence Deyalsingh, Colm Imbert, Maxie Cuffie, Anthony Garcia and Faris Al-Rawi. Cuffie said since most PNM MPs are new, they studied the rules.
Source: www.guardian.co.tt/news/2016-03-19/padarath-repay-parliament-60000-hiring-relative