By Richard Lord
February 22, 2016 – guardian.co.tt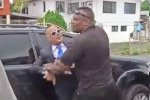 The Media Association of T&T says CNC3 breached journalistic ethics in airing an edited video clip of Tuesday's clash between Crime Watch host, Ian Alleyne and Inspector Roger Alexander.
According to MATT, "It was CNC3's duty to inform the public that the video had been altered. Not having done so, CNC3 omitted essential features of the confrontation and that omission amounted to misrepresentation."

MATT said the "breach of duty requires CNC3 to make amends with the public it serves and the industry in which it operates."
MATT turned some of its fire on the police, saying that there is the potential for ethical conflicts by the commingling of the TTPS with the commercial interests of private sector media. It was a reference to a revelation by a police spokesman, that Beyond The Tape is an official police programme.
MATT said law enforcement and the media serve the public interest in different ways and, consequently, the public should be furnished with detailed information on the protocols that govern the Beyond the Tape programme.
MATT said: "The degree of force used by the arresting officer appears disproportionate to the offence and the circumstances (and) MATT questions the refusal of the TTPS to investigate these allegations of excessive force," their statement added.
It said the right of media workers to reasonable treatment from the police while pursuing a story must be respected. MATT said another potential breach of conduct by the police related to a recent video on social media which appears to be recorded by police officers at the Chaguanas Police Station. The video shows Alleyne being taunted and ridiculed.
Source: www.guardian.co.tt/news/2016-02-22/matt%E2%80%88raps-cnc3-alexander-and-police-over-ian-alleyne-clash