By Darcel Choy and Sasha Harrinanan
February 16, 2016 – newsday.co.tt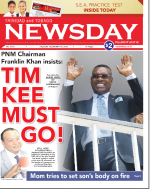 PEOPLE'S National Movement (PNM) Chairman Franklin Khan last night insisted that the party's Treasurer and Port-of-Spain Mayor Raymond Tim Kee must resign in the wake of his (Tim Kee) contro- versial comments made in the wake of the murder last week of Japanese pannist Asami Nagakiya, who body was found on Ash Wednesday under a tree in the Queen's Park Savannah. Khan made his position clear speaking also in his capacity as PNM chairman and Urban Development and Local Government Minister. He did so as Tim Kee's intention to demit office following an emergency meeting of the Corporation did not materialise yesterday.

"I speak as chairman of the PNM and also as Minister of Rural Development and Local Government, the line ministry under which the Port-of- Spain City Corporation falls," Khan told Newsday last night. "I reinforce statements by the Prime Minister on Sunday morning at Piarco airport, where he endorsed the Mayor's intention to resign." Indicating it was the right thing to do in the circumstances, Khan said, "I also want to reinforce Camille Robinson Regis, Chairman of the National Women's League of the PNM, indicating similar sentiments as the PM. I want to go on record as chairman of the party and as the line minister for the Port-of-Spain City Corporation I think that Tim Kee took the right decision by indicating his intention to resign and to also endorse what the Prime Minister has said." "In the capacity as Chairman I speak on behalf of the leadership of the party, indicating that we sup- port Tim Kee's original intention to resign and we think that he should proceed to do such in a timely manner. It is our opinion that he erred in the statements he issued and the only honourable thing to do now is ten- der his resignation," Khan declared.
And, was there an emergency meeting of the Port-of-Spain Corporation yesterday to receive and discuss the Mayor's offer to resign? Two Councillors – one of them usually crucial to the calling of unscheduled meetings of the Council – say no. Another said he was not invited to attend any such meeting yesterday and another two refused to comment when contacted by Newsday.
Hillan Morean, councillor for St Ann's River North, said he was not invited to a meeting, while June Durham and Jameel Bisnath, councillors for Woodbrook and St James East, respectively, both said they had no comment. PNM Chairman Khan was not aware whether such a meeting took place.
"I am not aware. But the Act is clear. The mayor has to issue his resignation to the council, through either the CEO or secretary of the council. The mayor's resignation is not contingent on acceptance or rejection by the council. Once the mayor resigns it is in effect. My understanding is he has not yet submit- ted his resignation and I want to go on record as endorsing the Prime Minister's sentiments that he (Tim Kee) will do the honourable thing and tender his resignation." When Newsday contacted Deputy Mayor Keron Valentine via a text message yesterday, he responded, "Council never met." "There was no Council meeting," was how Councillor for Belmont South and leader of the Council Jennel Young, responded to queries by Newsday. Asked whether there were any plans to have an emergency meeting during the course of this week, she said she has to be contacted by the mayor and no one has called her.
"I have not even seen a letter of resignation," she told Newsday yesterday. These denials conflict sharply with that of Councillor Farai Masaisai who said there was a meeting and councillors expressed solidarity with the embattled Mayor whose remarks following the death of Japanese national Asami Nagakiya were considered "totally unacceptable" on the weekend by his political leader, Prime Minister Dr Keith Rowley.